Croquettes – Chicken & Beef
Beef croquettes or chicken croquettes are mince rolls made with either beef or chicken. Blended with a number of spices, these croquettes are rolled into breadcrumbs and then deep-fried.
Imagine sinking your teeth into a crispy, golden shell that gives way to a melt-in-your-mouth filling bursting with flavor. Whether you prefer chicken or beef croquettes, these techniques will ensure your creations are crispy on the outside, creamy on the inside, and absolutely delicious. Start experimenting in your kitchen and impress your family and friends with your mouthwatering croquettes.
Why is this the best recipe?
What sets this recipe apart is its attention to detail. We understand that crafting the perfect croquette requires a delicate balance of flavors and textures. That's why we've gone the extra mile to guide you through every step, ensuring that no aspect is overlooked. You won't find any shortcuts or half-hearted instructions here – only a commitment to helping you create croquette masterpieces that will leave your family and friends begging for more.
But it's not just about the process; it's also about the end result. Our recipe is designed to deliver croquettes that will tantalize your taste buds and ignite a culinary adventure in your kitchen.
Following our guidance, you can create fillings that dance on your palate, coated with a perfectly golden crust that shatters with each bite. The combination of flavors and textures will leave you wondering how you ever settled for anything less.
We also understand that as you dive into the world of croquette-making, you might have questions along the way. That's why we've addressed frequently asked questions in this guide, ensuring that you have all the answers you need. We want you to feel confident and empowered in your croquette-making endeavors, knowing that we have your back.
Choosing the Right Base Ingredients
The foundation of a good croquette lies in the combination of flavors and textures that make up its core. Whether you're a seasoned pro or a beginner in the world of croquette-making, understanding the importance of selecting the right base ingredients will set you on the path to culinary success.
First and foremost, let's talk about the star of the show: the main ingredient. This can vary depending on your personal preferences and the type of croquette you're planning to make. Are you leaning towards a classic chicken croquette? Or perhaps a vegetarian option with mushrooms? Whatever your choice, ensure that your main ingredient is fresh, of high quality, and packed with flavor. Remember, the base ingredient will be the highlight of your croquette, so choose wisely.
Next on the list are the supporting ingredients that add depth and dimension to your croquette. Onions, garlic, and herbs are some of the common players in this category. These aromatic additions not only infuse your croquette with flavor but also provide a delightful sensory experience. When selecting these supporting ingredients, consider their compatibility with your main ingredient. The goal is to create a harmonious blend that enhances the overall taste of your croquette.
Now, let's not forget about the binding agents. These are the ingredients that hold your croquette together and give it that coveted crispy, golden exterior. Common binding agents include eggs, breadcrumbs, and flour. The proportion of these agents can vary depending on the recipe, so be sure to follow the instructions closely. The right balance of binding agents will ensure that your croquette stays intact during the cooking process and delivers a satisfying crunch with each bite.
As you gather your base ingredients, keep in mind the end result you're aiming for. Are you looking for a creamy and smooth croquette or a chunkier texture? Adjusting the consistency of your base ingredients can help you achieve your desired outcome. Consider using a food processor to finely chop your main ingredient if you're after a more cohesive texture. Alternatively, hand-chopping can create a rustic appeal with visible chunks. The choice is yours, and experimentation is encouraged!
Creating the perfect filling
When it comes to creating the perfect croquette filling, the options are nearly limitless. This is your chance to infuse your croquettes with the flavors that excite you the most every single time.
Start by considering the texture you want to achieve with your filling. If you're going for a smooth and creamy center, think about incorporating ingredients like mashed potatoes and cream cheese. These additions will lend a luxurious mouthfeel to each bite and ensure a melt-in-your-mouth experience.
On the other hand, if you're craving a heartier bite with visible chunks, consider using diced vegetables, shredded meats, or even bits of crispy bacon. These unexpected bursts of texture will add depth and complexity to your croquettes, creating a delightful contrast against the crunchy exterior.
Don't forget about the power of herbs and spices to elevate your filling to a whole new level. Experiment with combinations that complement your main ingredient and add a punch of flavor. From aromatic herbs like cilantro, mint, and parsley to bold spices like cayenne pepper or smoked paprika, cumin and coriander the possibilities are endless.
As you experiment with different fillings, remember to taste and adjust as you go along. The beauty of croquettes lies in their versatility, and it's all about finding the balance that resonates with your palate. Don't be afraid to take risks, explore new flavor profiles, and create combinations that excite you.
Mastering the Breading Process
To start the breading process, you'll need three essential components: flour, eggs, and breadcrumbs. It's important to choose the right type of flour for your croquettes. All-purpose flour is a safe bet, but if you want a lighter and crispier coating, you might opt for rice flour or even cornstarch.
Now, let's talk eggs. Whisk them up in a shallow bowl, adding a pinch of salt and perhaps a sprinkle of your favorite herbs or spices for an extra layer of flavor. The eggs act as the binding agent, helping the breadcrumbs adhere to the croquettes and ensuring a crisp exterior.
When it comes to breadcrumbs, you have a couple of options. Homemade breadcrumbs using day-old bread can be a great way to add extra depth to the flavor, but store-bought ones work just as well. With their light and airy texture, Panko breadcrumbs are particularly popular for creating that perfect crunch.
To begin the breading process, dust your croquette with flour, making sure it's evenly coated. This helps the egg mixture stick to the surface, creating a strong foundation for the final layer of breadcrumbs. Dip the flour-coated croquette into the whisked eggs, making sure it's completely covered. Allow any excess egg to drip off before moving on to the final step.
Finally, roll your croquette in the breadcrumbs, ensuring an even and generous coating. Gently press the breadcrumbs onto the surface to make sure they adhere well. Once fully coated, place your breaded croquette on a baking sheet or plate and repeat the process with the remaining mixture.
As you bread your croquettes, remember to handle them with care. Delicately transfer them from one stage to another to preserve their shape and prevent the breading from falling off. If you're making a large batch, you may find it helpful to refrigerate the breaded croquettes for about 30 minutes before frying. This will help the breading set and adhere even better.
Perfecting the Art of Frying
When it comes to frying croquettes, maintaining the right temperature is crucial. Too low, and the croquettes will absorb excess oil and become greasy. Too high, and the exterior will burn before the interior is cooked through. The sweet spot for frying croquettes is usually between 350-375 degrees Fahrenheit (177-190 degrees Celsius). Invest in a good food thermometer to ensure accuracy and consistency.
Before adding your croquettes to the oil, test it to make sure it is hot enough by dropping in a small piece of breading. If it sizzles and turns golden brown within a few seconds, you're ready to go. If it sinks or takes too long to brown, allow the oil to heat up a bit more before proceeding.
To prevent overcrowding the pan and maintain an even heat distribution, fry your croquettes in small batches. This will ensure they cook evenly and achieve that desirable golden-brown color. As you add the croquettes to the oil, be cautious to not splash hot oil and risk any burns. Use a slotted spoon or spider skimmer to gently lower them into the pan, and never overcrowd the pan.
While frying, it's important to monitor the croquettes closely. Keep an eye on their color, flipping them occasionally to ensure uniform browning. Depending on their size and your desired level of crispness, croquettes typically take around 3-4 minutes per side to cook. However, it's always a good idea to gauge their doneness by using a food thermometer. The internal temperature should reach 160 degrees Fahrenheit (71 degrees Celsius) to ensure they are fully cooked.
Once your croquettes are beautifully golden and crispy, carefully remove them from the oil using a slotted spoon or spider skimmer, allowing any excess oil to drain off. Transfer them to a wire rack or paper towel-lined plate to cool slightly and rest, allowing the flavors to meld and the breading to set.
Frequently asked questions
Can I make croquettes ahead of time and freeze them?
Absolutely! Croquettes are a great make-ahead dish. Once you have shaped your croquettes and coated them in breadcrumbs, place them on a baking sheet and freeze until firm. Then, transfer them to an airtight container or freezer bag. They can be frozen for up to three months. When you're ready to enjoy them, simply fry them straight from the freezer, adding a few extra minutes to the cooking time.
Can I use a different type of meat or vegetable in my croquettes?
Definitely! Croquettes are versatile and can be made with a variety of ingredients. While traditional croquettes are made with meat, you can experiment with different proteins like chicken, beef, or even seafood. Vegetables such as spinach, mushrooms, or corn can also be incorporated for a vegetarian twist. Just ensure that the ingredients are cooked and well seasoned before adding them to the croquette mixture.
My croquettes always end up falling apart during frying. What am I doing wrong?
The key to preventing croquettes from falling apart is properly binding the mixture. Make sure you use enough binding agents like eggs, breadcrumbs, or mashed potatoes to hold everything together. Additionally, chilling the croquettes in the refrigerator for at least an hour before frying can help them hold their shape. If you're still experiencing issues, try reducing the size of your croquettes or adding more breadcrumbs to the coating for an extra layer of protection.
Can I bake croquettes instead of frying them?
While frying is the traditional method for cooking croquettes, you can also bake them for a healthier alternative. Preheat your oven to 400°F (200°C) and place the shaped croquettes on a baking sheet lined with parchment paper. Brush them with a little oil or melted butter to help them brown and crisp up. Bake for about 20-25 minutes, turning them over halfway through, until they are golden and cooked through.
Can I use gluten-free breadcrumbs for my croquettes?
Absolutely! If you have dietary restrictions or prefer a gluten-free option, you can definitely use gluten-free breadcrumbs in your croquettes. You can find pre-made gluten-free breadcrumbs at most grocery stores, or you can make your own by toasting gluten-free bread and processing it into breadcrumbs. Just make sure to season them well to enhance the flavor.
Pin this and other East-Indian Recipes on Pinterest here. Don't forget to like and Follow for more recipes.
---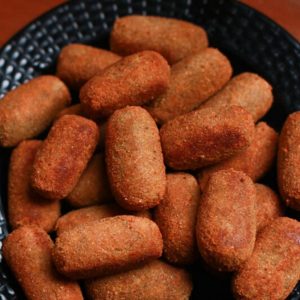 Beef croquettes or chicken croquettes are mince rolls made with either beef or chicken. Blended with a number of spices, these croquettes are rolled into breadcrumbs and then deep-fried
Equipment /Tools
Wok for stir fry

Cutting Board

Kitchen Knife

Wooden spoon

Bowl
Ingredients
Mixture
½

kg

(

1

lb

)

Chicken

or beef – ground

1

large

Onion

finely chopped

2

small

Chilies

green chopped

2

large

Garlic cloves

minces

1

inch

Fresh ginger

grated

½

tsp

chili powder

1

tbsp

lemon or lime

3

tbsp

Bread slices

roughly chopped

1

tsp

Kosher salt

1

tsp

Black pepper powder
Coating
1

cup

Flour

1

cup

(

)

Breadcrumbs

1

large

Egg

beaten
Instructions
Combine – In a bowl, combine the ground meat with the chopped onions, green chili, garlic, ginger, black pepper, chili powder, salt, and lemon. Combine well. Add the chopped bread slices and mash it well into the mixture.

½ kg Chicken,

1 large Onion,

2 small Chilies,

2 large Garlic cloves,

1 inch Fresh ginger,

½ tsp chili powder,

1 tbsp lemon or lime,

3 tbsp Bread slices,

1 tsp Kosher salt,

1 tsp Black pepper powder

Shape – Take a small golf-size amount of mixture in your hands and shape it into a cylinder shape. Place them on a baking tray lined with parchment. Then, plate them in the fridge for 15 to 30 minutes.

Coat – Coat each croquette in flour, then in the beaten egg, then coat with breadcrumbs. Chill the croquettes in the fridge for 15 to 20 mins.

1 cup Breadcrumbs,

1 large Egg

Deep fry – Heat oil in a saucepan large enough so the croquettes will float in them. The oil should be hot at about 350℉ so they turn light golden brown.Pro tip – Deep fry no more than 3 to 4 croquettes at a time for 4 to 5 mins each or until golden brown and serve
About Videos – most recipes has two videos – a quick version in the post & longer detailed version on this recipe card. Please do subscribe to my channel if you like my videos
Nutrition Information
Calories:
482
kcal
|
Carbohydrates:
11
g
|
Protein:
4
g
|
Fat:
47
g
|
Saturated Fat:
4
g
|
Polyunsaturated Fat:
13
g
|
Monounsaturated Fat:
29
g
|
Trans Fat:
0.2
g
|
Cholesterol:
18
mg
|
Sodium:
180
mg
|
Potassium:
78
mg
|
Fiber:
1
g
|
Sugar:
1
g
|
Vitamin A:
89
IU
|
Vitamin C:
8
mg
|
Calcium:
20
mg
|
Iron:
1
mg
The nutrition information and metric conversion are calculated automatically. I cannot guarantee its accuracy. If this data is important to you please verify with your trusted nutrition calculator. Thank you