Escape the ordinary and embrace a delightful fusion of flavors with coconut chicken curry. Tender chicken pieces cooked with carrots and potatoes in a rich coconut-based curry. This delightful dish will impress your taste buds with its rich and complex taste.
The origins of this geerem meerem curry or coconut chicken curry can be traced back to the coastal state of Goa in India. With its diverse cultural influences and proximity to the Arabian Sea, Goa has long been a melting pot of culinary traditions. Coconut, a staple ingredient in Goan cuisine, plays a central role in this dish, adding a creamy texture and a subtle sweetness of coconut that perfectly complements the bold flavors of the spices.
Goan cuisine itself is a fusion of Indian, Portuguese, and Southeast Asian flavors. The Portuguese colonization of Goa in the 16th century left a lasting impact on the local culinary scene, introducing ingredients like vinegar, chilies, and garlic. Over time, these Portuguese influences merged with traditional Indian spices and cooking techniques, giving birth to the unique and flavorful Goan cuisine we know today.
Coconut chicken curry reflects this rich culinary heritage by blending traditional Indian spices like cumin, coriander, and turmeric with the creamy goodness of coconut milk. The result is a harmonious combination of flavors that is both comforting and exciting to the taste buds. From the first spoonful, you can taste the history and cultural exchange that went into creating this delightful fusion dish.
With its intriguing origins and irresistible flavors, coconut chicken curry has gained popularity not just within Goa but also around the world. As people seek out new and exciting flavor profiles, this dish has become a favorite for those looking to expand their culinary horizons
Ingredients and substitutes
Coconut chicken curry owes its delectable taste to a carefully selected blend of ingredients that work together to create a symphony of flavors. These key components, when combined in just the right proportions, result in a dish that is truly a delight for the senses.
At the heart of this flavorful fusion is the creamy goodness of coconut milk. This luscious ingredient not only adds richness to the curry but also imparts a subtle sweetness that balances out the spices. It serves as the perfect base for the dish, creating a velvety texture that coats each piece of tender chicken.
To achieve the authentic taste of coconut chicken curry, one cannot overlook the importance of traditional Indian spices. Cumin provides a warm and earthy undertone, while coriander adds a fresh and citrusy flavor profile. Turmeric, with its vibrant yellow hue, not only lends color but also infuses the curry with a subtle hint of bitterness. Together, these spices create a harmonious blend that is at once comforting and exciting.
However, if you find yourself missing some of these spices in your pantry, fear not! Coconut chicken curry is a versatile dish that allows for substitutions and adaptations to suit individual preferences. For instance, if you prefer a milder curry, you can reduce the amount of cumin, coriander, or chili powder.
In addition to spices, the choice of vegetables and proteins can also enhance the overall flavor profile of coconut chicken curry. While the classic recipe calls for chicken, you can easily substitute it with shrimp, tofu, or even a medley of vegetables for a vegetarian twist. Bell peppers, carrots, and peas are popular choices that add a vibrant burst of color and texture to the dish.
Tips for cooking coconut curry
To make the most delicious coconut chicken curry, consider the following tips.
First, be mindful of the cooking time for different proteins and vegetables. While chicken may take around 20 minutes to cook through, shrimp requires only a few minutes, and tofu benefits from a shorter cooking time as well. By being aware of these variations, you can ensure that all the elements in your curry reach their ideal level of doneness.
Next, consider the size and shape of your ingredients. Chopping vegetables into similar-sized pieces not only promotes even cooking but also makes for a visually appealing curry. Additionally, consider the texture of the vegetables you choose. While bell peppers offer a satisfying crunch, soft and tender carrots can add a nice contrast in every bite.
The balance of flavors is crucial in coconut chicken curry, so don't be afraid to adjust the seasonings to suit your own taste. If you prefer a spicier curry, add a little extra red chili powder or some chopped green chilies. On the other hand, if you prefer a milder flavor, reduce the amount of spice or opt for a mild curry powder. Remember, you are the chef, and your taste buds should guide you in making the perfect curry.
Finally, don't rush the cooking process. Coconut chicken curry benefits from slow simmering, allowing all the flavors to meld together and develop deep richness. Take your time and allow the curry to bubble gently on the stove, allowing the coconut milk to thicken and infuse the dish with its creamy essence.
Frequently asked questions
Can I use a different type of chicken in this recipe?
Certainly! While we recommend using boneless, skinless chicken thighs for their tenderness and flavor, you can also substitute with chicken breasts if you prefer a leaner option. Just make sure to adjust the cooking time accordingly, as chicken breasts may cook faster than thighs.
Can I make this curry less spicy?
Absolutely! If you're not a fan of heat or simply prefer a milder curry, there are a few ways to dial down the spice. Consider reducing the amount of red curry paste or using a mild curry powder instead. You can also add a dollop of yogurt or coconut milk to mellow out the heat while still maintaining the richness of flavors.
Can I make this curry vegetarian?
Definitely! If you're looking for a meat-free option, you can easily make this a vegetarian coconut curry by substituting the chicken with your favorite vegetables or tofu. Some great options include cauliflower, bell peppers, sweet potatoes, or chickpeas. Just be mindful of the cooking time needed for the vegetables you choose.
Can I make this curry ahead of time?
Absolutely! In fact, the flavors of this coconut chicken curry tend to deepen and develop when left to sit for a while. Consider making it ahead of time and allowing it to cool and rest in the refrigerator overnight. When you're ready to serve, simply reheat it gently on the stove, adding a splash of water or coconut milk if needed to adjust the consistency.
Pin this and other East-Indian Recipes on Pinterest here. Don't forget to like and Follow for more recipes.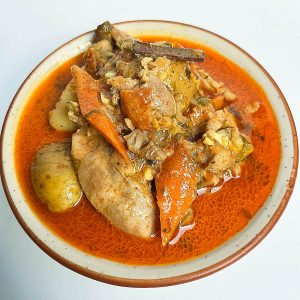 Ingredients
1

lb

(

450

g

)

Chicken

boneless, skinless chicken breasts cut into bite-sized pieces

2

tbsp

Vegetable oil

1

med

Onion

finely chopped

3

large

Garlic cloves

minced

3

inch

Fresh ginger

grated

2

tbsp

Curry powder

1

tsp

Ground cumin

1

tsp

Ground coriander

½

tsp

Turmeric

¼

tsp

Cayenne pepper

optional, adjust to taste

1½

cup

(

350

ml

)

Coconut milk

2

med

(

426

g

)

Potatoes

peeled and cubed

2

large

(

144

g

)

Carrots

peeled and sliced

1

cup

(

240

ml

)

Chicken broth

½

tsp

Kosher salt

½

tsp

Black pepper powder

½

cup

Fresh cilantro leaves

chopped (for garnish)

4

cups

Cooked rice

for serving
Instructions
Sauté – Heat the vegetable oil in a large pot or skillet over medium heat. Add the chopped onion and cook until softened and translucent, about 5 minutes. Add the minced garlic and grated ginger to the pot and cook for another minute until fragrant.

2 tbsp Vegetable oil,

1 med Onion,

3 large Garlic cloves,

3 inch Fresh ginger

Spices – Add the spice mixture to the pot and cook for a minute, stirring constantly to coat the onions, garlic, and ginger.

2 tbsp Curry powder,

1 tsp Ground cumin,

1 tsp Ground coriander,

½ tsp Turmeric,

¼ tsp Cayenne pepper

Chicken – Add the chicken pieces to the pot and cook until they are lightly browned on all sides. Pour in the coconut milk and stir to combine with the chicken and spices. Bring the mixture to a simmer.

1 lb Chicken,

1½ cup Coconut milk

Veggies – Add the cubed potatoes and sliced carrots to the pot. Pour in the chicken broth, season with salt and pepper to taste, and stir everything together.

2 med Potatoes,

2 large Carrots,

1 cup Chicken broth,

½ tsp Kosher salt,

½ tsp Black pepper powder

Simmer – Cover the pot and let the curry simmer on low heat for about 25-30 minutes, until the chicken is cooked and the vegetables are tender.

Season – Once cooked, remove the pot from the heat. Taste the curry and adjust the seasoning if needed.

½ cup Fresh cilantro leaves

Serve the coconut chicken curry hot over cooked rice or with naan bread. Garnish with fresh cilantro leaves.
About Videos – most recipes has two videos – a quick version in the post & longer detailed version on this recipe card. Please do subscribe to my channel if you like my videos
Nutrition Information
Calories:
684
kcal
|
Carbohydrates:
76
g
|
Protein:
20
g
|
Fat:
35
g
|
Saturated Fat:
20
g
|
Polyunsaturated Fat:
6
g
|
Monounsaturated Fat:
6
g
|
Trans Fat:
0.1
g
|
Cholesterol:
42
mg
|
Sodium:
596
mg
|
Potassium:
1074
mg
|
Fiber:
6
g
|
Sugar:
4
g
|
Vitamin A:
6319
IU
|
Vitamin C:
29
mg
|
Calcium:
101
mg
|
Iron:
6
mg
The nutrition information and metric conversion are calculated automatically. I cannot guarantee its accuracy. If this data is important to you please verify with your trusted nutrition calculator. Thank you