Spice up your dinner with a taste of India through beef kebabs. Whether you're an adventurous eater or just looking to switch up your usual meal rotation, this dish is guaranteed to impress your taste buds.
Are you tired of the same old dinner routine? Are you looking to add some excitement and flavor to your meals? Look no further than beef kebabs with a taste of India. This dish offers a perfect combination of spices and a rich, meaty flavor that is sure to tantalize your taste buds.
Why is this the best recipe
To truly experience the flavors of India, you need the best recipe for beef kebabs.
This recipe stands out because it perfectly balances the spices and seasonings, creating a rich and bold flavor that will impress anyone who tries it.
Not only is it delicious, but it's also simple to make – perfect for those who are short on time or new to cooking Indian cuisine.
With just a few key ingredients, you'll be on your way to a stunningly delicious meal that your family and friends will never forget.
Ingredients and substitutes
To make the best beef kebab recipe, you need to start with the right ingredients. Here's a list of the key items you'll need to bring the flavors of India to your table:
Beef: Sirloin or top round beef works well for kebabs, but you can also use lamb or chicken if you prefer.
Yogurt: Plain yogurt is a key ingredient in the marinade, helping to tenderize the meat and add a tangy flavor.
Spices: You'll need a mix of spices for the marinade, including cumin, coriander, paprika, ginger, and garlic. If you don't have these exact spices on hand, you can make substitutions with what you have in your spice rack.
Lemon juice: Lemon juice adds a bright, citrusy flavor to the marinade and helps to tenderize the meat.
Onion: The chopped onion is added to the marinade, giving the kebabs a delicious sweetness.
If you don't have yogurt you can use Greek yogurt instead of plain yogurt, or substitute lime juice for lemon juice.
Tips for making Indian beef kebabs
When it comes to making Indian beef kebabs, there are a few things to keep in mind to ensure they turn out perfectly.
First and foremost, use high-quality beef and make sure to marinate it for at least a few hours (or even overnight) to maximize flavor. It's also important to grind the beef into along with the veggies until it is a paste otherwise it won't adhere to the skewers.
When it comes to seasoning, don't be afraid to experiment with different combinations of spices like cumin, coriander, turmeric, and garam masala.
And if you're using wooden skewers, make sure to soak them in water for at least 30 minutes before using to prevent them from burning on the grill.
Once your kebabs are ready to grill, preheat your grill to medium-high heat and lightly oil the grates to prevent sticking.
Grill the kebabs for about 10-12 minutes, turning occasionally, until they are cooked to your desired level of doneness.
To really bring out the flavors of the kebabs, serve them hot off the grill with a side of cooling raita or a tangy chutney.
Pairing Indian Beef Kebabs with Side Dishes
To fully enjoy the rich and exotic flavors of Indian beef kebabs, it's essential to pair them with complementary side dishes that will take your taste buds on a journey through India's varied culinary landscape.
One classic accompaniment to kebabs is raita, a cooling yogurt-based dip that balances the heat of the spices in the meat.
Raita is typically made with cucumber, mint, and cilantro, and it can also be customized with other ingredients like roasted cumin or chopped tomatoes.
Another popular option is chutney, a tangy and flavorful condiment that comes in many different varieties. Mint chutney is a common choice for kebabs, as it adds a bright and refreshing kick to the dish. Tamarind chutney is a sweeter option that pairs well with spicier kebabs, while mango chutney brings a tropical twist to the meal.
If you're in the mood for something heartier, consider serving your kebabs with a side of biryani, a fragrant rice dish that's loaded with spices and aromatic ingredients like saffron and cardamom. Alternatively, you could opt for a simple salad of crisp cucumbers and juicy tomatoes, dressed with a drizzle of lemon juice and a pinch of salt.
No matter which side dishes you choose, the key is to balance the bold flavors of the kebabs with contrasting textures and flavors that will complement and enhance the dish. With the right accompaniments, your Indian beef kebabs will be the star of the show at any meal.
Creative ways to serve Indian kebabs
No matter how you choose to prepare your Indian beef kebabs, they are sure to be a hit with your friends and family. But if you're looking to impress, consider these creative ways to serve your kebabs:
Skewer-free: Remove the beef from the skewers and serve it alongside a variety of dips and sauces. This is a perfect option for a buffet-style meal where guests can mix and match flavors.
Wrap it up: Use the beef kebabs as a filling for wraps or sandwiches. Load up on fresh vegetables, herbs, and sauces for a delicious and satisfying meal.
Salad topping: Slice the beef kebabs and use them as a protein-packed topping for your favorite salad. Add crunchy vegetables and a tasty dressing to complete the dish.
These serving ideas are just the beginning of the endless possibilities you can explore with Indian beef kebabs. But if you have any questions about how to prepare or serve them, we've got you covered in our FAQ section below.,
Frequently asked questions
What cut of beef is best for kebabs?
Sirloin, flank, or ribeye are all good options as they are tender and flavorful. It's important to cut the beef into evenly sized pieces so they cook evenly.
Can I marinate the beef overnight?
Yes, marinating the beef overnight will enhance the flavor even more. However, if you're short on time, marinating for at least 30 minutes will still result in delicious kebabs.
Can I use a different type of meat?
Absolutely! Chicken, lamb, or even tofu can be substituted for beef in this recipe.
What can I serve with the beef kebabs?
Rice, naan bread, or a simple cucumber salad are all great options to complement the spiced beef.
In conclusion, beef kebabs are a great way to bring the flavors of India into your own kitchen. With the right ingredients and tips, you can easily make these crowd-pleasing kebabs for any occasion, from a casual weeknight meal to a fancy dinner party. Remember to pair them with the right side dishes and get creative with presentation, such as using skewers or serving them on a bed of rice. As you venture into the world of Indian cuisine, don't be afraid to try new things and experiment with different spices and flavors. So go ahead, spice things up and bring a taste of India to your table today!
Pin this and other East-Indian Recipes on Pinterest here. Don't forget to like and Follow for more recipes.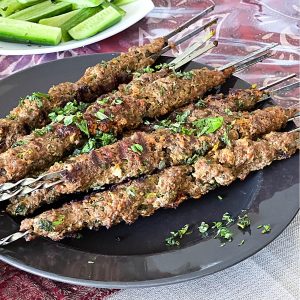 Spice up your dinner with a taste of India through beef kebabs. Whether you're an adventurous eater or just looking to switch up your usual meal rotation, this dish is guaranteed to impress your taste buds.
Ingredients
1

lb

Ground beef

or been and lamb combined

1

large

Onion

finely chopped

2

large

Garlic

minced

3

inch

Fresh ginger

grated

2

med

Green chilies

finely chopped (adjust according to your spice preference)

½

cup

Cilantro

chopped

¼

cup

Mint leaves

chopped

1

tbsp

Gram flour

Besan

1

tsp

Ground cumin

1

tsp

Ground coriander

½

tsp

Garam masala

½

tsp

Red chili powder

½

tsp

Kosher salt

2

tbsp

Lemon juice

for serving

2

tbsp

oil

for cooking

¼

cup

Mint chutney or yogurt sauce

for serving
Instructions
Combine – In a mixing bowl, combine the ground beef, chopped onion, minced garlic, grated ginger, green chilies, cilantro, mint leaves, gram flour, ground cumin, ground coriander, garam masala, red chili powder, and salt. Mix well until all the ingredients are evenly incorporated.

1 lb Ground beef,

1 large Onion,

2 large Garlic,

3 inch Fresh ginger,

2 med Green chilies,

½ cup Cilantro,

¼ cup Mint leaves,

1 tbsp Gram flour,

1 tsp Ground cumin,

1 tsp Ground coriander,

½ tsp Garam masala,

½ tsp Red chili powder,

½ tsp Kosher salt,

2 tbsp Lemon juice

Rest – Allow the mixture to rest in the refrigerator for at least 30 minutes. This will help the flavors to blend and the mixture to firm up, making it easier to shape the kebabs.

Shape – After the mixture has rested, take a small portion of the mixture and shape it into a flat, elongated kebab. You can use your hands or skewers to shape the kebabs.

Grill – Heat oil in a pan or griddle over medium heat. Once the oil is hot, place the kebabs on the pan and cook them for about 4-5 minutes on each side or until they are browned and cooked through.

Rest – Remove the kebabs from the pan and place them on a serving platter. Squeeze some lemon juice over the kebabs for added freshness.

Serve the Indian beef kebabs hot with mint chutney or yogurt sauce on the side. They can be enjoyed as an appetizer or a main course with naan or rice.

¼ cup Mint chutney or yogurt sauce
Recipe Notes
You can adjust the spice levels according to your taste preferences by increasing or decreasing the amount of green chilies and red chili powder used in the recipe.
About Videos – most recipes has two videos – a quick version in the post & longer detailed version on this recipe card. Please do subscribe to my channel if you like my videos
Nutrition Information
Calories:
388
kcal
|
Carbohydrates:
8
g
|
Protein:
21
g
|
Fat:
30
g
|
Saturated Fat:
9
g
|
Polyunsaturated Fat:
3
g
|
Monounsaturated Fat:
15
g
|
Trans Fat:
1
g
|
Cholesterol:
81
mg
|
Sodium:
379
mg
|
Potassium:
459
mg
|
Fiber:
2
g
|
Sugar:
2
g
|
Vitamin A:
337
IU
|
Vitamin C:
8
mg
|
Calcium:
51
mg
|
Iron:
3
mg
The nutrition information and metric conversion are calculated automatically. I cannot guarantee its accuracy. If this data is important to you please verify with your trusted nutrition calculator. Thank you
Bring the Flavors of India to Your Table with Beef Kebabs
With the right ingredients and technique, you can easily bring the flavors of India to your own kitchen with beef kebabs. Whether you're making them for a small dinner party or a weeknight meal, these kebabs are sure to be a crowd-pleaser. So why not spice things up and give them a try today?