Homemade Meat Patties
These are puff pastry filled ground meat and baked until golden often referred to as meat patties. Growing up these were very common breakfast snacks you could buy from the bakery. Today, I show you how easy it is to make.
These meat patties are made using puff pastry. Puff pastry can be purchased ready-to-use at any supermarkets or pastry shops. Mostly found in the chillers or frozen section. Of course, you can also make puff pastry from scratch. If you are interested in learning how to make puff pastry from scratch I have shared a detailed recipe with video and step by step pictures on my name blog Veena Azmanov.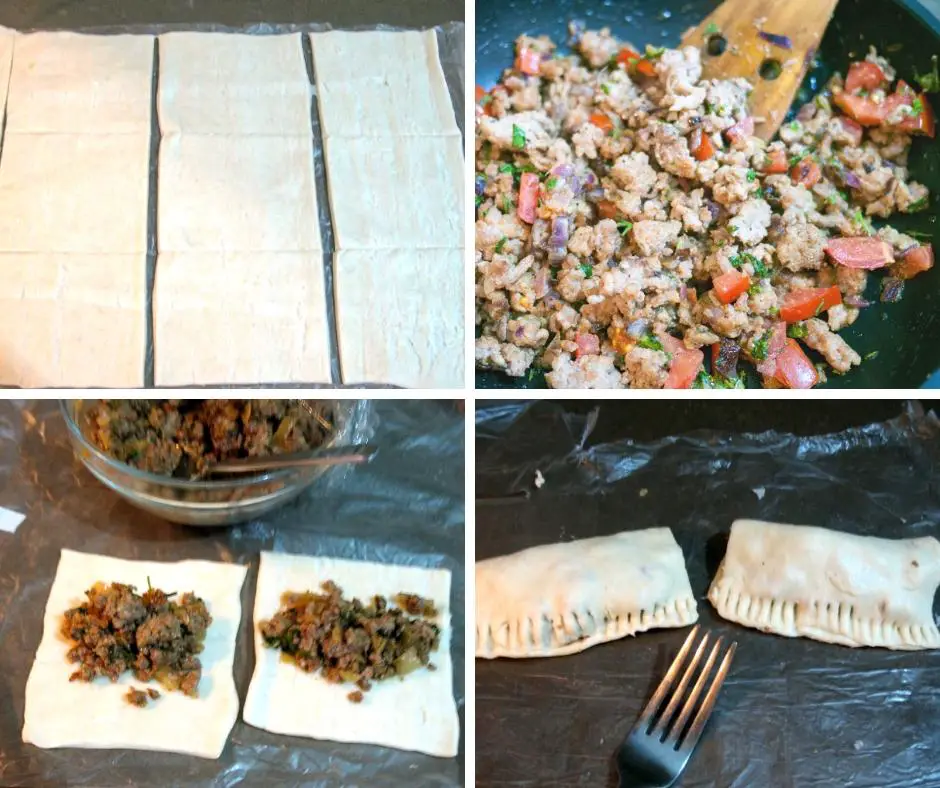 Today, we fill these with ground meat filling but you can also make these with a mushroom filling, mashed potato filling similar to a samosa or cheese spinach filling. My kid's favorite is Nutella puff pastries, but you can also try your favorite jam or date and nut filling. You can also use the minced chicken recipe I shared previously with you.
Method 2
While you can certainly make it the above individual method. You can also make it as one long puff pastry strip then cut it into similar size squares as shown below.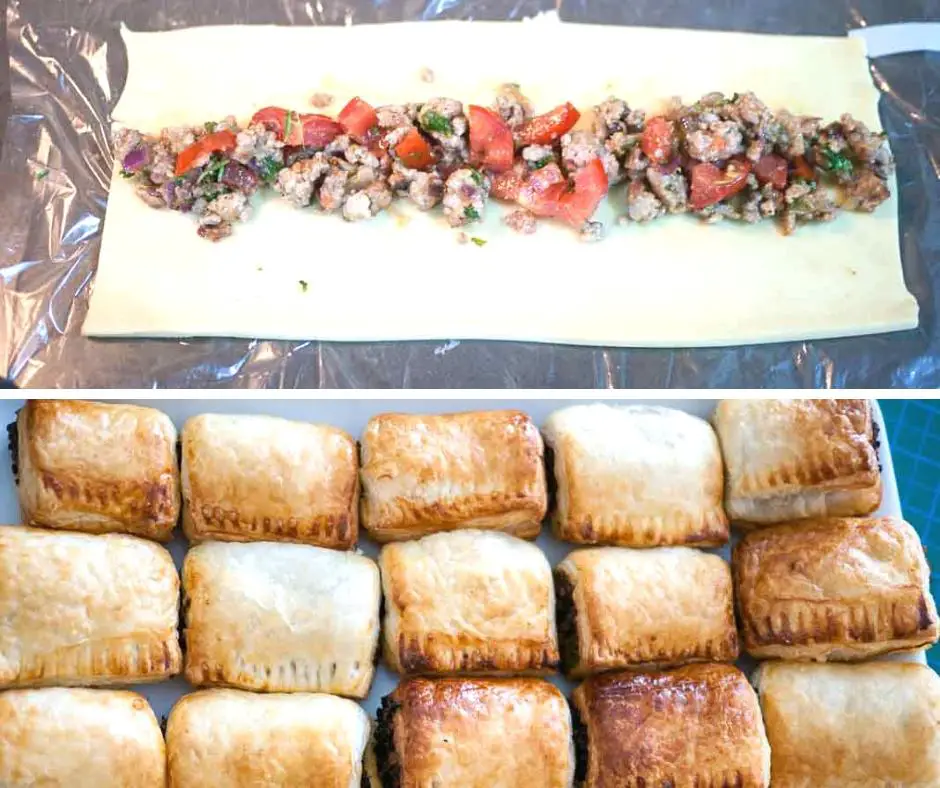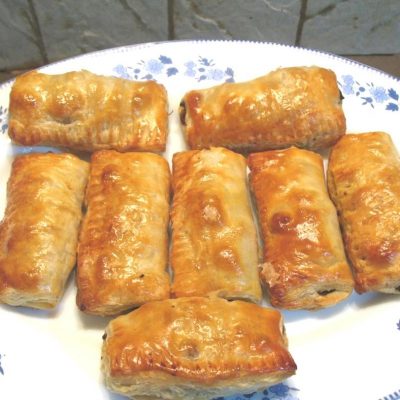 These are puff pastry filled ground meat and baked until golden often referred to as meat patties. Growing up these were very common breakfast snacks you could buy from the bakery. Today, I show you how easy it is to make.
Equipment /Tools
Saute Pan

Baking tray

Kitchen Knife
Ingredients
For the Filling
250

grams

Ground meat

beef or chicken mince

1

cup

Onions

chopped finely

1

tsp

Garlic

minced finely

1

tsp

Ginger

minced finely

1/2

cup

Cilantro

Kothmir chopped finely

1/2

tsp

Turmeric

haldi

1

tsp

Coriander powder

Dhania

1/2

tsp

Cumin powder

Jeera

1

tsp

Vinegar

or 1 tbsp lemon juice

1/2

tsp

Salt

1/2

tsp

Pepper

1

tbsp

Cooking Oil
Instructions
For the meat filling
Saute the onion, garlic, ginger, in oil for 2 to 3 minutes until the onions become translucent

Add the ground meat and saute until no longer pink.

Add the spices and season with salt and pepper

Continue to cook until the meat is cooked.

Then, add the cilantro and vinegar

Taste and adjust seasoning.

Remove from heat and into a bowl to cool completely. If possible, place in the fridge for an hour as it makes it easier to work.
For the Puff Pastry
Keep the puff pastry chilled at all times. It is easier to work with chilled puff pastry.

When chilled, open the puff pastry – dust with flour and roll out to about 16 x 16 inches square

If necessary, place on a tray and back in the fridge to keep it cold.

Cut the puff pastry into half both horizontally and vertically. So now you have 4 large squares.

Cut each large square again in half horizontally and vertically. This should give you 16 squares

Place them back in the fridge.
Assemble
Preheat the oven at 200 C / 400 F

Working with a few puff pastry squares at a time

Fill one half of each square with a generous amount of ground meat filling making sure to leave the edges clear.

Apply a light smear of water on the edge

Then, flip the second half of the square over.

Use a fork to seal the top and bottom edge. Put it back in the fridge to chill again.

Do the same with all the other puff pastry squares

Place the chilled meat patties on a baking tray.

Brush each pastry with beaten egg. Sprinkle with sesame seeds.

Bake in the preheated oven for 18 to 22 minutes until lightly golden.

Let cool at least 10 minutes before you serve.
About Videos – most recipes has two videos – a quick version in the post & longer detailed version on this recipe card. Please do subscribe to my channel if you like my videos
The nutrition information and metric conversion are calculated automatically. I cannot guarantee its accuracy. If this data is important to you please verify with your trusted nutrition calculator. Thank you
Pin this and other East-Indian Recipes on Pinterest here
You may also like
East Indian Meatball Curry
Tender balls of ground meat cooked in a rich creamy coconut curry sauce is what this East Indian meatball curry is all about. A surprisingly easy recipe to make with a few extra steps but this will soon be a family favorite.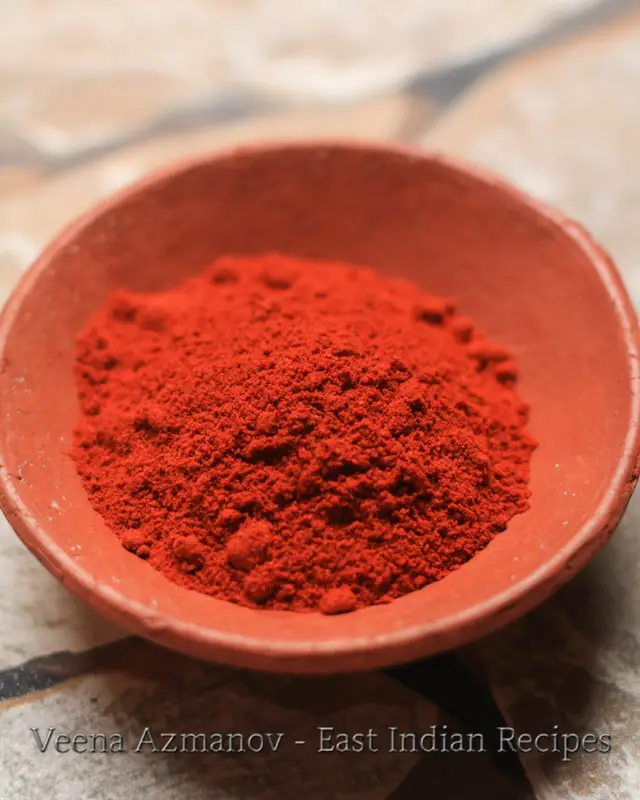 East Indian Bottle Masala Recipe
This bottle masala recipe is an authentic East-Indian spice mix similar to curry powder. The bottle masala which as an Indian curry powder is a unique blend of more than 20 different spices. Every family has its own variation of the recipes. This is mine, handed down from my family.