Green Beans Indian Recipe
Are you ready to embark on a tantalizing culinary journey that will transport your taste buds to the vibrant streets of India? Prepare to unleash the flavors of this captivating land with a must-try green beans Indian recipe that blends the freshness of vegetables with the exotic spices that make Indian cuisine so enticing.
Green beans are a beloved vegetable that adds a vibrant touch to any dish. Their crisp texture and natural sweetness make them a versatile ingredient that can be used in a variety of recipes.
Native to South America, green beans have traveled far and wide to become a staple in cuisines around the world. Also known as string beans or snap beans, they come in two main varieties: the classic green beans and the slender French haricots verts. Both varieties offer a delightful crunch and a subtle earthy flavor that pairs perfectly with a range of spices and seasonings.
Incorporate the magic of Indian cuisine into your own kitchen with this mouthwatering green beans recipe.
Ingredients and substitutes
Look for beans that are tender and vibrant in color, as these will provide the best flavor and texture. However, if you cannot find fresh green beans, you can also use frozen ones as a substitute. Just make sure to thaw them completely before cooking.
Moving on to the spices, this recipe calls for a blend of traditional Indian spices that give the dish its unique taste. One of the key spices is cumin, which adds a warm, earthy flavor to the beans. If you don't have cumin on hand, you can use coriander powder as a substitute, although it will impart a slightly different taste.
Another essential ingredient in this recipe is turmeric, which not only adds a vibrant yellow color but also lends a subtle earthy flavor. However, if you don't have turmeric in your pantry, you can use curry powder instead. Keep in mind that curry powder is a blend of various spices, so the taste will be slightly different, but equally delicious.
For those who enjoy a bit of heat, the recipe calls for red chili powder. This spice adds a spicy kick to the dish, but if you prefer a milder flavor, you can use paprika as a substitute. Paprika will still give the dish a beautiful red hue without the fiery heat.
To balance out the flavors and add some tanginess, the recipe also includes tamarind paste. Tamarind paste has a unique sweet and sour taste, but if you don't have it on hand, you can substitute it with lime juice or even a dash of apple cider vinegar.
Lastly, the recipe recommends garnishing the green beans with fresh cilantro leaves, which add a refreshing, herbaceous note. If you're not a fan of cilantro or don't have any available, you can use parsley as a substitute. While the taste will be slightly different, it will still provide a burst of freshness to the dish.
Tips for making green beans
Before cooking, be sure to wash the green beans thoroughly and remove any ends or stems. While some recipes call for cutting the beans into bite-sized pieces, others prefer to cook them whole. Experiment with both options to see which texture you prefer.
In addition to spices and tempering, Indian cooking often incorporates the use of coconut milk or yogurt to create a creamy texture and balance the spices' heat.
To add a touch of indulgence to your green beans, consider stirring in a some desiccated coconut. Alternatively, you can also add a dollop of plain yogurt towards the end of the cooking process. This will not only enhance the richness of the dish but also mellow out the robust flavors, resulting in a perfectly harmonized culinary experience.
When it comes to cooking green beans, timing is crucial. Overcooked beans can become mushy and lose their vibrant color and crispness. To ensure perfectly cooked green beans, blanch them in boiling water for a few minutes before sautéing or stir-frying. This method helps to retain their bright green color and natural crunch.
Finally, don't be afraid to get creative with your seasonings. While the traditional Indian spices mentioned earlier are a great starting point, feel free to add your own personal touch. Experiment with herbs like cilantro or mint, or even incorporate some citrus zest for a burst of freshness.
How do you serve Indian green beans
When it comes to serving Indian green beans, there are several options to consider that will complement the flavors of this delightful dish. Whether you are looking for a simple side dish or a main course centerpiece, there are plenty of ways to showcase the unique flavors and textures of Indian green beans.
One classic way to serve Indian green beans is as a side dish alongside other traditional Indian dishes. The vibrant colors and distinct flavors of the green beans can add a refreshing element to a plate filled with rich curries, fragrant rice, and warm naan bread. The crispy texture of the beans provides a satisfying contrast to the other softer components of the meal. Simply place a generous portion of the green beans on a plate alongside your other Indian dishes, and let the flavors speak for themselves.
If you want to take your Indian green beans to the next level, consider turning them into a main course by adding some protein. Sauteed shrimp or chicken can be tossed with the green beans during the cooking process, allowing the flavors to meld together beautifully. This not only adds a heartier element to the dish but also provides a complete meal in itself. Serve this delicious combination over steamed rice or alongside some freshly baked naan bread for a satisfying and well-rounded dining experience.
For a lighter option, you can also serve Indian green beans as a salad or appetizer. Simply blanch the green beans until they are tender-crisp and then toss them with a tangy dressing made from lemon juice, olive oil, and a touch of honey. Add some toasted almonds or crushed peanuts for an extra crunch, and garnish with fresh herbs like cilantro or mint. This refreshing salad can be served chilled or at room temperature, making it a perfect option for a summer gathering or a quick and healthy lunch.
Frequently asked questions
Can I use frozen green beans instead of fresh ones?
Yes, you can certainly use frozen green beans if fresh ones are not available. Just make sure to thaw them before cooking. Keep in mind that frozen green beans might have a slightly different texture compared to fresh ones, but they will still work well in this recipe.
Can I add other vegetables to the dish?
Absolutely! Feel free to get creative and add other vegetables to enhance the flavors and colors of the dish. Some popular additions include bell peppers, carrots, cauliflower, or even potatoes. Just keep in mind that different vegetables may require different cooking times, so adjust accordingly.
Is there a way to make this recipe spicier?
Yes, if you prefer a spicier version of Indian green beans, you can increase the amount of red chili powder or add some chopped green chilies to the dish. Adjust the spice level to your taste preferences, keeping in mind that Indian cuisine tends to have bold, complex flavors.
Can I make this recipe ahead of time?
Absolutely! Indian green beans taste even better the next day as the flavors have had more time to meld together. You can prepare the dish in advance and simply reheat it before serving. This makes it a convenient option for meal prepping or entertaining.
Can I make this recipe vegan?
es, the recipe can easily be made vegan by omitting the ghee or butter and using a vegetable oil of your choice instead. The dish will still be packed with flavor and will cater to a wider range of dietary preferences.
Pin this and other East-Indian Recipes on Pinterest here. Don't forget to like and Follow for more recipes.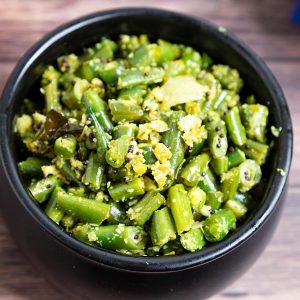 Green Beans Poriyal is a delicious South Indian dish made with green beans, grated coconut, and a flavorful seasoning. Here's a simple and tasty recipe for Green Beans Poriyal. This simple and nutritious dish can be served as a side dish with steamed rice and a lentil-based main course like sambar or rasam. It's a delightful way to enjoy the natural flavors of green beans with a hint of coconut and traditional South Indian spices.
Ingredients
1

lb

(

453.59

g

)

Green beans

washed, trimmed, chopped

½

cup

Freshly grated coconut

you can use frozen grated coconut as well

1

tbsp

Ghee

1

tbsp

Cooking oil

1

tsp

Mustard seeds

1

tsp

Urad dal

split black gram

1

tsp

Chana dal

split chickpeas

1-2

Dried red chilies

broken into pieces

4 – 5

Curry leaves

¼

tsp

Asafoetida

hing

¼

tsp

Kosher salt

¼

tsp

Black pepper powder
Instructions
Beans – Cut the green beans into small pieces. You can chop them into small rounds or thinly slice them diagonally.

Saute – In a pan or kadai, heat the ghee and cooking oil over medium heat. Add the mustard seeds and let them splutter. Add the urad dal and chana dal to the pan. Stir and roast until the dals turn golden brown. Add the dried red chilies, curry leaves, and asafoetida to the pan. Sauté for a few seconds until the curry leaves become crisp.

1 tbsp Ghee,

1 tbsp Cooking oil,

1 tsp Mustard seeds,

1 tsp Urad dal,

1 tsp Chana dal,

1-2 Dried red chilies,

4 – 5 Curry leaves,

¼ tsp Asafoetida

Beans – Add the chopped green beans to the pan and mix well with the seasoning. Season with salt to taste. Lower the heat to medium-low, cover the pan, and let the beans cook. Stir occasionally to ensure even cooking.

¼ tsp Kosher salt,

¼ tsp Black pepper powder

Simmer – Cook the beans until they become tender but have a slight crunch. Avoid overcooking, as the texture is essential for this dish.

Finish – Add the freshly grated coconut to the pan once the beans are cooked. Mix well and let it cook for another minute to allow the flavors to meld. Turn the heat off. Serve as a side dish with main course.

½ cup Freshly grated coconut
About Videos – most recipes has two videos – a quick version in the post & longer detailed version on this recipe card. Please do subscribe to my channel if you like my videos
Nutrition Information
Calories:
151
kcal
|
Carbohydrates:
13
g
|
Protein:
3
g
|
Fat:
11
g
|
Saturated Fat:
6
g
|
Polyunsaturated Fat:
1
g
|
Monounsaturated Fat:
3
g
|
Cholesterol:
10
mg
|
Sodium:
158
mg
|
Potassium:
319
mg
|
Fiber:
5
g
|
Sugar:
5
g
|
Vitamin A:
976
IU
|
Vitamin C:
75
mg
|
Calcium:
61
mg
|
Iron:
2
mg
The nutrition information and metric conversion are calculated automatically. I cannot guarantee its accuracy. If this data is important to you please verify with your trusted nutrition calculator. Thank you