Pork Sarpatel or Sorpotel
Sorpotel is another East-Indian classic recipe alongside pork vindaloo. A must-have for every wedding and of course festive occasions. Made with bottle masala, garlic, ginger, and chilies this recipe is easier than you think.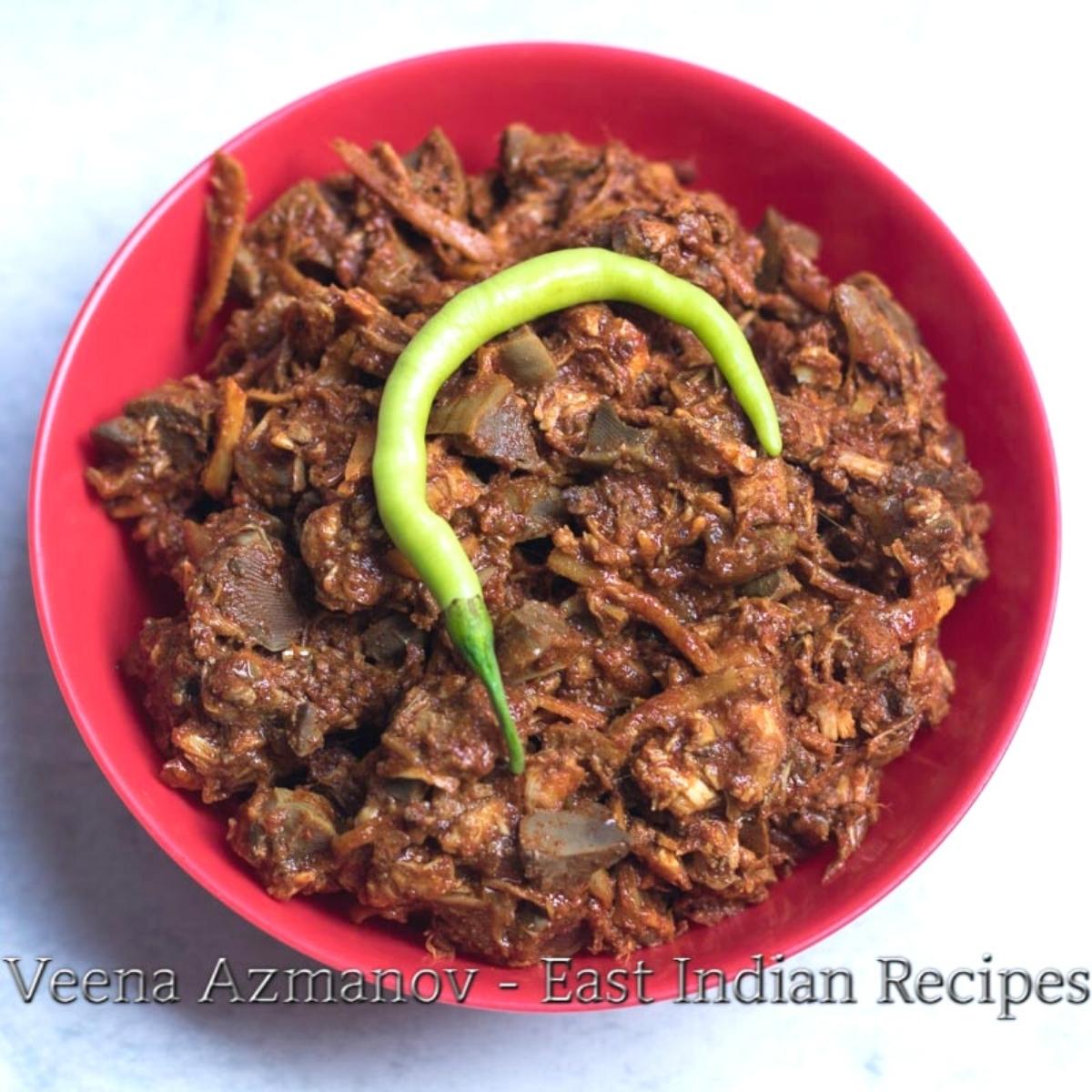 ---
This is ethnic to East-Indian cuisine and different from Goan or Mangalorean sorpotel which are also other authentic recipes originating from their regions.
While all these recipes have the same name, the recipes are very different. Of course, all are equally delicious. So make sure to try them.
It is very easy to spot sarpatel on the dinner table because is a unique dish. The meat is cut into small tiny pieces.
In fact, I remember as a kid when we'd go to a wedding, the first few days would be everybody helping in making the food. One of the chores we young girls were always given was to cut the cooked pork meat for sorpotel. You had to cut it really small otherwise it was a NO, NO.
Ingredients and substitutes
Pork – for this dish we need not just the meat but also the innards like liver, fat, and heart. That is what gives this dish a different, yet wonderful combination of textures.
Bottle masala – it wouldn't be sorpotel if you didn't. use bottle masala! So unfortunately there is not substitute for this spice mix.
Pork blood – I know it does't sound so great but it's true, a good sarpotel has cooked pork blood added to it. I do not use it and my sarpotel is still as authentic so don't worry too much about it.
Vinegar – homemade plum vinegar made from plum wine is authentic to this dish. But, often I never have access to this so so I use apple cider vinegar.
Garlic, ginger – of course, you must use fresh. In fact, cutting them into juliennes is the authentic way to add them to this recipe.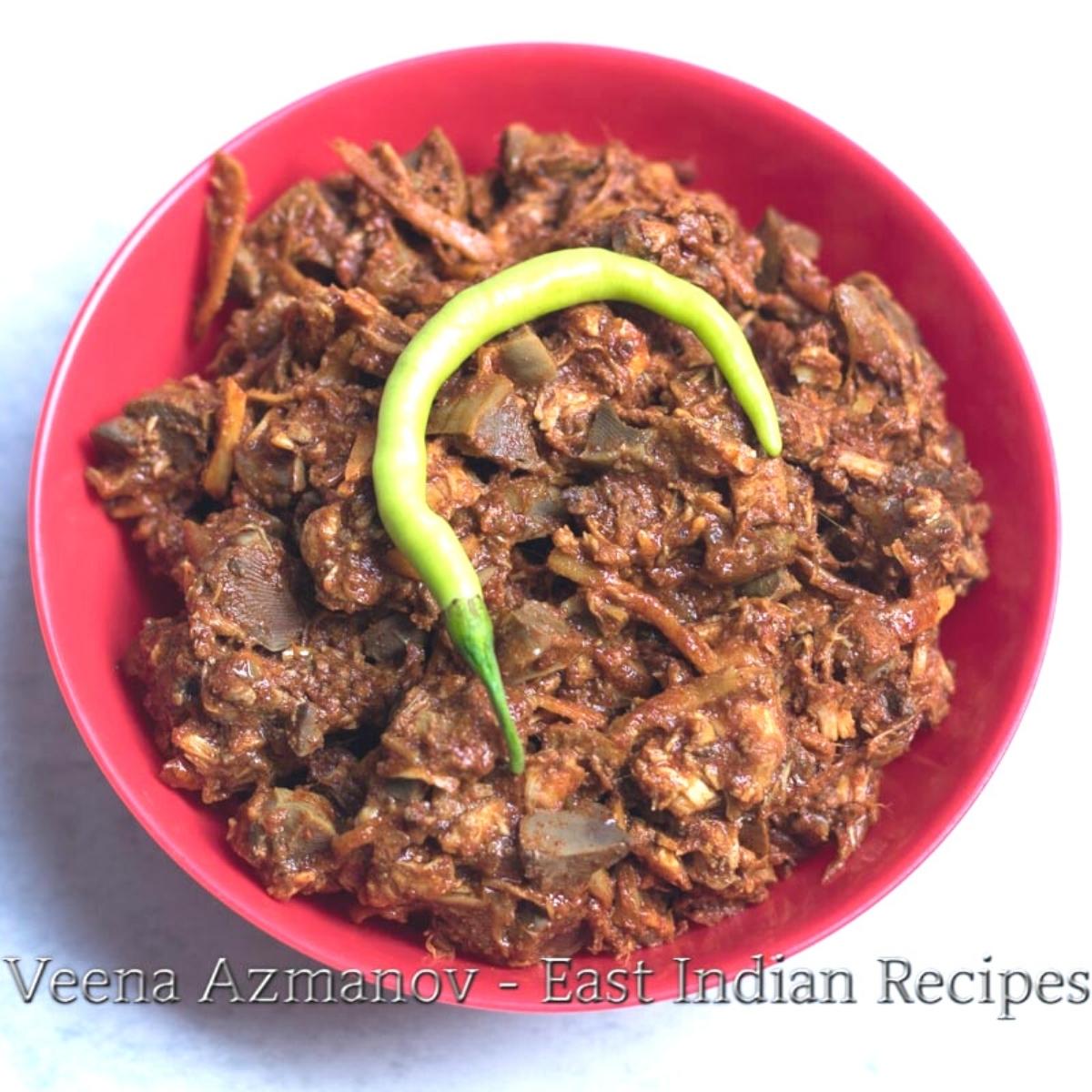 Frequently asked questions
How long will this sorpotel keep?
Authentic sorpotel is high in pork fat and vinegar. Most importantly there is no water used which is why the shelflife for this dish is 2 to 3 days at room temperature. You can keep it in the fridge for up to two weeks or in the freezer for up to 3 months.
Can I use other meat instead of pork?
Absolutely, you can use this masala and method to make it beef or chicken but make sure to use all the cuts/innards like liver and heart along with the meat.
What do you serve pork sorpotel with?
I love having east Indian handbreads or apas with my sorpotel and vindaloo. At a wedding feast, you will often see it served with fugias or varias alongside the popular wedding rice with fruit and nuts.
You may also like
Pin this and other East-Indian Recipes on Pinterest here. Don't forget to like and Follow for more recipes.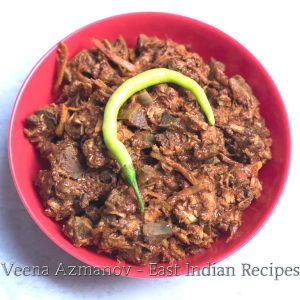 Another East-Indian classic pork recipe Sorportel is a must have at any festive table alongside vindaloo. Spicy, delicious made with East-Indian bottle masala and fresh garlic ginger and chilies.
Ingredients
1

kg

(

2

lb

)

Pork

cut to large chunks

6

oz

(

170

g

)

Pork liver

cut to large chunks

6

oz

(

170

g

)

Pork heart

keep in large pieces

½

tsp

turmeric powder

haldi

10

Garlic cloves

thinly slices

1

inch

(

)

Fresh Ginger

thinly sliced

3

Green Chilies

thinly sliced

2

tbsp

Cooking oil

2

tbsp

Bottle masala

½

cup

Vinegar

1

tsp

Salt

½

tsp

Pepper

1

tbsp

Dried pork blood

(optional – a traditional ingredient)
Instructions
Par-boil the pork – Place the pork, heart, and liver in a heavy bottom pot. Season with salt, pepper, and turmeric. Place it on medium heat and stir-fry until no longer pink adding half the vinegar. Pro tip – it is easier to cut meat into smaller pieces once it is par-boiled so cook on medium to low heat and do not add water. The meat will release some of its juices as well.

Cut the pork – Remove from the heat and let it cool to almost warm. Then, cut the meat into small 1/2-inch pieces. Pro tip – you can do this step a day ahead and keep the chopped meat in the fridge.
Saute
In a heavy-bottom cooking pot add oil and fry the ginger, garlic, chiles for 2 minutes. Then add the bottle masala and fry a minute more on low heat.

Pro tip – ensure the heat is low as we do not want to burn the bottom masala spice mix.

next, add the chopped meat, followed by the remaining vinegar. Cover and cook until the meat is cooked through.

Pro tip – if you are using the dried pork blood you can add it in along with the chopped meat. I do not use it.

Taste and adjust seasoning. Add more vinegar is necessary
About Videos – most recipes has two videos – a quick version in the post & longer detailed version on this recipe card. Please do subscribe to my channel if you like my videos
Nutrition Information
Calories:
427
kcal
|
Carbohydrates:
5
g
|
Protein:
26
g
|
Fat:
33
g
|
Saturated Fat:
11
g
|
Cholesterol:
137
mg
|
Sodium:
439
mg
|
Potassium:
484
mg
|
Fiber:
1
g
|
Sugar:
1
g
|
Vitamin A:
3575
IU
|
Vitamin C:
7.3
mg
|
Calcium:
30
mg
|
Iron:
4.6
mg
The nutrition information and metric conversion are calculated automatically. I cannot guarantee its accuracy. If this data is important to you please verify with your trusted nutrition calculator. Thank you