Recheado masala also known as Goan raechad masala is a fiery and tangy paste that is used to marinate fish and veggies. It has a variety of spices and rich red color. Made with chilies, spices, and vinegar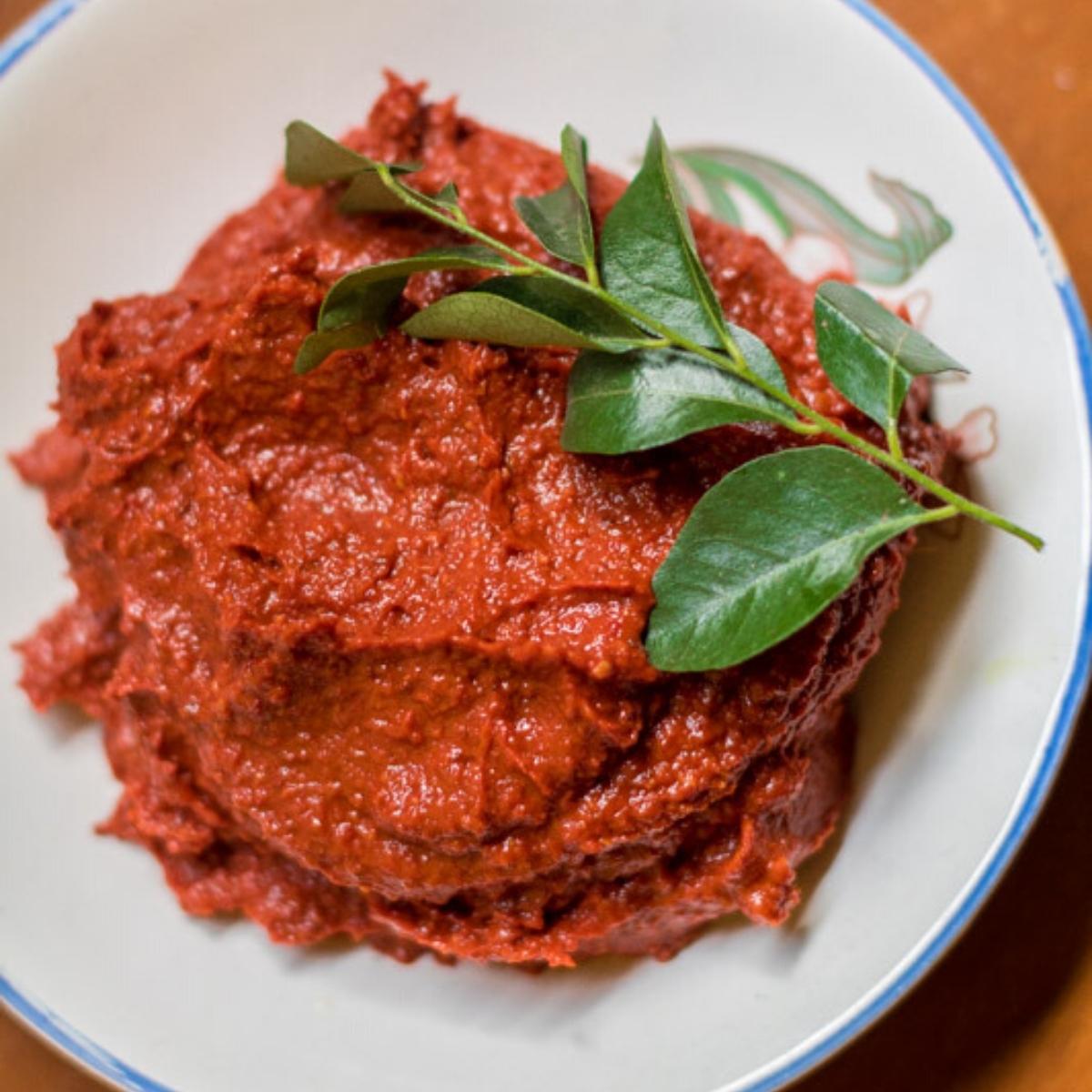 Goa is a small coastal state on the southwest coast of India in the south of Bombay. It was colonized by the Portuguese. Recheado is the Portuguese word that means stuffed and masala in the Indian word for paste.
If you've been to Goa, you've probably had a fish dish made with this masala. Often stuffed in between the fish like mackerels and pomfrets. sometimes even in veggies like okra. It is spicy with a distinct taste of vinegar. In fact, it is a must-have masala in every Goan household.
Just as East Indians pride themselves on their own bottle masala recipe, every Goan family will have their own recipe for recheado masala. Below is my sister Pearl's recipe because it is very popular in the family. I hope you enjoy it too.
Ingredients and substitutes
Chilies – you must use kashmiri red chillies for this reicpe because these are sweet and have a beautiful rich red color similar to smoked sweet paprika.
Tamarind – you can use a small golf size ball of fresh tamarind or just 1 tsp of concentrated tamarind paste (I used tamarind paste)
Jaggery – ads a nice flavor from the coconut sap but you can also use brown sugar which has the flavor of molsses.
Onion – you can use one large sliced onion in this recipe but I find that onion reduces the shelflife of the masala. Without onions you can keep this in the fridge for up to a month.
Vinegar – traditionally, this paste is made with some cocout vinegar or feni and palm vinegar. But, white wine vinegar works just as well.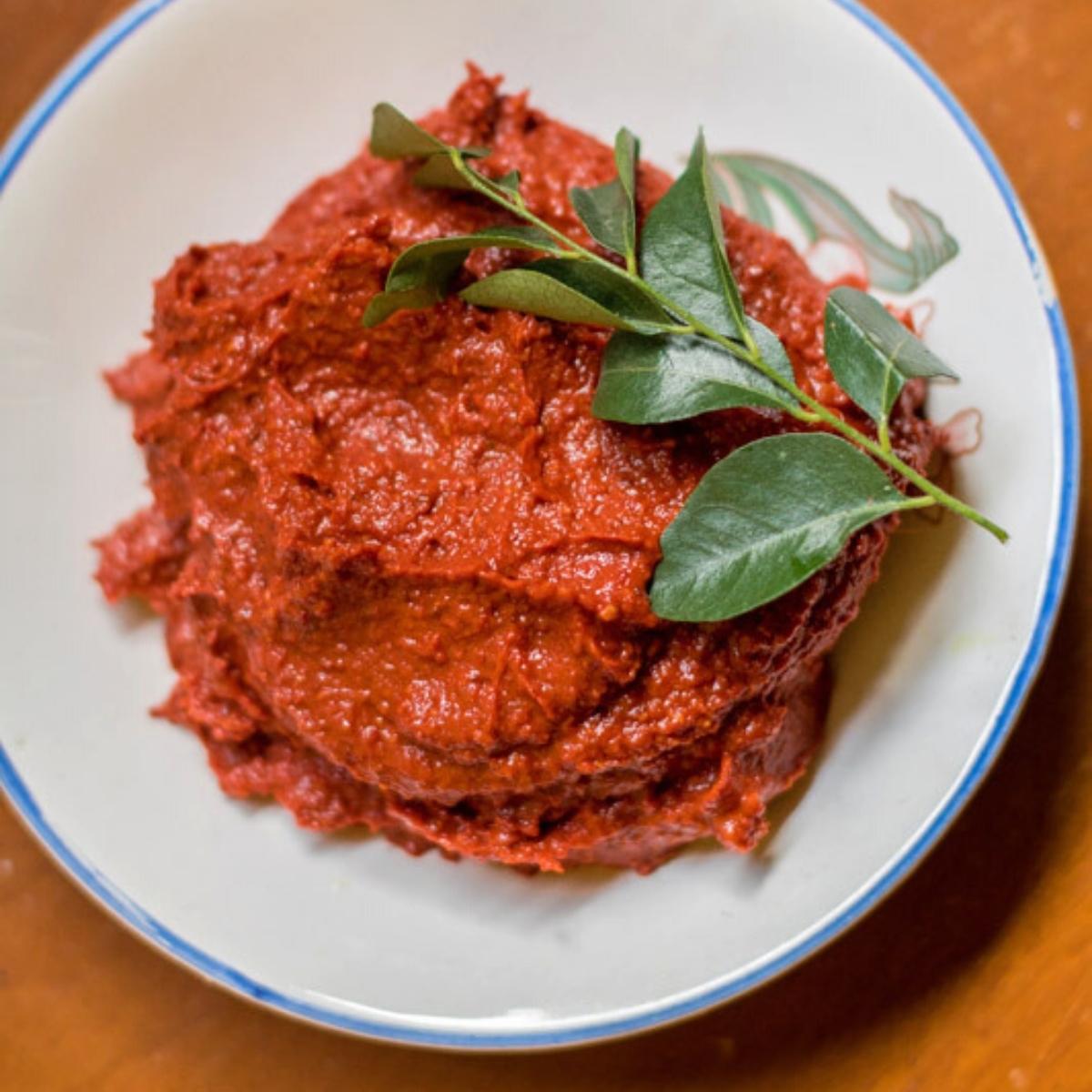 How to use recheado masala
Fish – clean and split fish in between such as mackerels, pomfrest or salmon, seabass. Pat them dry. Season with salt and pepper. Then spread a generous amount of this masala in between the gap as well as all around. Coat the fish in flour and pan fry with little oil until cooked.
Seafood – apple this masala to prawns, shrimps, squids. Then coat them with flour, dip them in beaten eggs followed by dry bread crumbs. Deep or shallow fry until cooked.
Veggies – Use this masala to fill in okra, stuff in small split eggplants. Cook in a little oil until tender.
You may also like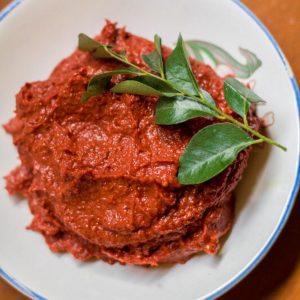 Recheado masala also known as raechad masala is a fiery and tangy paste that is used to marinate fish. It has a variety of spices and a rich red color. Made with chilies, spices, and vinegar.
Ingredients
20

Kashmiri red Chillies

or smoked sweet paprika

10

cloves

Garlic

3

inch

Ginger

fresh

10

Cloves

10

Peppercorns

or 1 tsp pepper powder

1

large

Cinnamon stick

(3-inches)

4

Green cardamoms

1

tsp

Cumin

jeera

2

tbsp

Jaggery

(or dark brown sugar)

1

tsp

Salt

1

tsp

Tamarind paste

(or small golf size ball of fresh tamarind)

1/2

cup

White vinegar

Palm or white wine vinegar

¼

cup

Coconut vinegar

(Feni)
Plus
1

large

Onion

1

tbsp

Cooking oil
Instructions
Soak the chilies in vinegar for 20 minutes. This will soften them and make them easier to grind.

Pro tip – to make the masala paste less spicy, deseed the chilies. The seeds are usually spicy so taking them out will reduce the spiciness.

Roughly slice the onions and saute them in the oil until caramelized.

Pro tip – to store the paste for a longer time at room temperature, omit the onions. Onions tend to reduce shelflife.

Place all the ingredients, along with the soaked chilies, spices, and cooked onions in the blender, food processor, or mixer. Grind until smooth adding the vinegar a little at a time. Pro tip – adding the vinegar gradually will give a smoother consistency to the paste. DO NOT USE WATER ONLY VINEGAR TO MAKE THIS PASTE

Remove and store in a glass jar or mason jar.

Pro tip – Do not store in aluminum as the acid in the vinegar will react with the metal giving the paste a metallic taste.
About Videos – most recipes has two videos – a quick version in the post & longer detailed version on this recipe card. Please do subscribe to my channel if you like my videos
Nutrition Information
Calories:
385
kcal
|
Carbohydrates:
85
g
|
Protein:
9
g
|
Fat:
2
g
|
Saturated Fat:
1
g
|
Sodium:
2370
mg
|
Potassium:
1129
mg
|
Fiber:
10
g
|
Sugar:
52
g
|
Vitamin A:
1904
IU
|
Vitamin C:
310
mg
|
Calcium:
162
mg
|
Iron:
4
mg
The nutrition information and metric conversion are calculated automatically. I cannot guarantee its accuracy. If this data is important to you please verify with your trusted nutrition calculator. Thank you