This authentic East Indian guisad of chicken curry is simple and easy to make. It uses both cut and ground masala paste as well as almonds and sultanas for that creamy yet slightly sweet flavor.
Often referred to as chicken stew this guisad of chicken is really just a wonderfully spiced Indian chicken curry made with giblets or chicken gizzards instead of chicken pieces.
My grandmom often made this chicken guisado with a whole organic chicken that has been roaming freely because this gives the dish that unique gamey flavor.
The recipe uses ground masala with coconut which helps lighten the spices. The almonds enhance the creaminess of the curry while the sultanas add a nice sweetness when combined with the sour flavor from the tomatoes.
What are chicken gizzards?
Also, known as giblets, peta, potha, or tete a gizzard is the bird's stomach. It is the part of the bird where the food is ground so often the grandmoms refer to this as the hen's teeth!!
Offal cuts like these are not so commonly used by the younger generation these days because we barely know what to do with them. But, if you think back to your childhood days, these are probably some of your favorite childhood dishes with high nutritional value.
Chicken gizzards are very popular offals in most cultures and are cooked very differently. My mom made curries, chili-fry, as well as added them to the stuffing for stuffed chicken.
The most important thing about offal cuts is that they need to be cleaned thoroughly. Often scrubbed with flour to remove any unwanted smells. Only then can these be used to cook. A chicken gizzard would have to be boiled in salted water for 15 minutes on medium-high heat before it can be cut into smaller pieces and then used to cook. However, today we are making curry so the only thing you need to do is make sure it is cleaned thoroughly.
A gizzard has a thick yellow thick layer that needs to be taken out properly! It is best done by the butcher or someone that knows how to handle it correctly.
Ingredients and substitutes
Chicken – In India, you will get the butchers sell gizzards on their own. But, you can also use the whole chicken with bones cut into pieces. I usually make about 4 to 5-inch large pieces.
Potatoes – this is optional and you can omit the potato but I highly recommend it.
Kashmiri chilies – these are nice and red but not as spicy. If you prefer spicy can add more green chilies instead.
Spices – for this we use individual spices instead of bottle masala. Most of these are simple pantry staple spices for Indian cooking.
Coconut – my mom used to use ground coconut but I always use canned coconut cream because that is what I get. Fresh is not easily available for me. You can also use coconut milk instead of cream. If you use coconut milk double the amount and omit the water to enhance the flavor.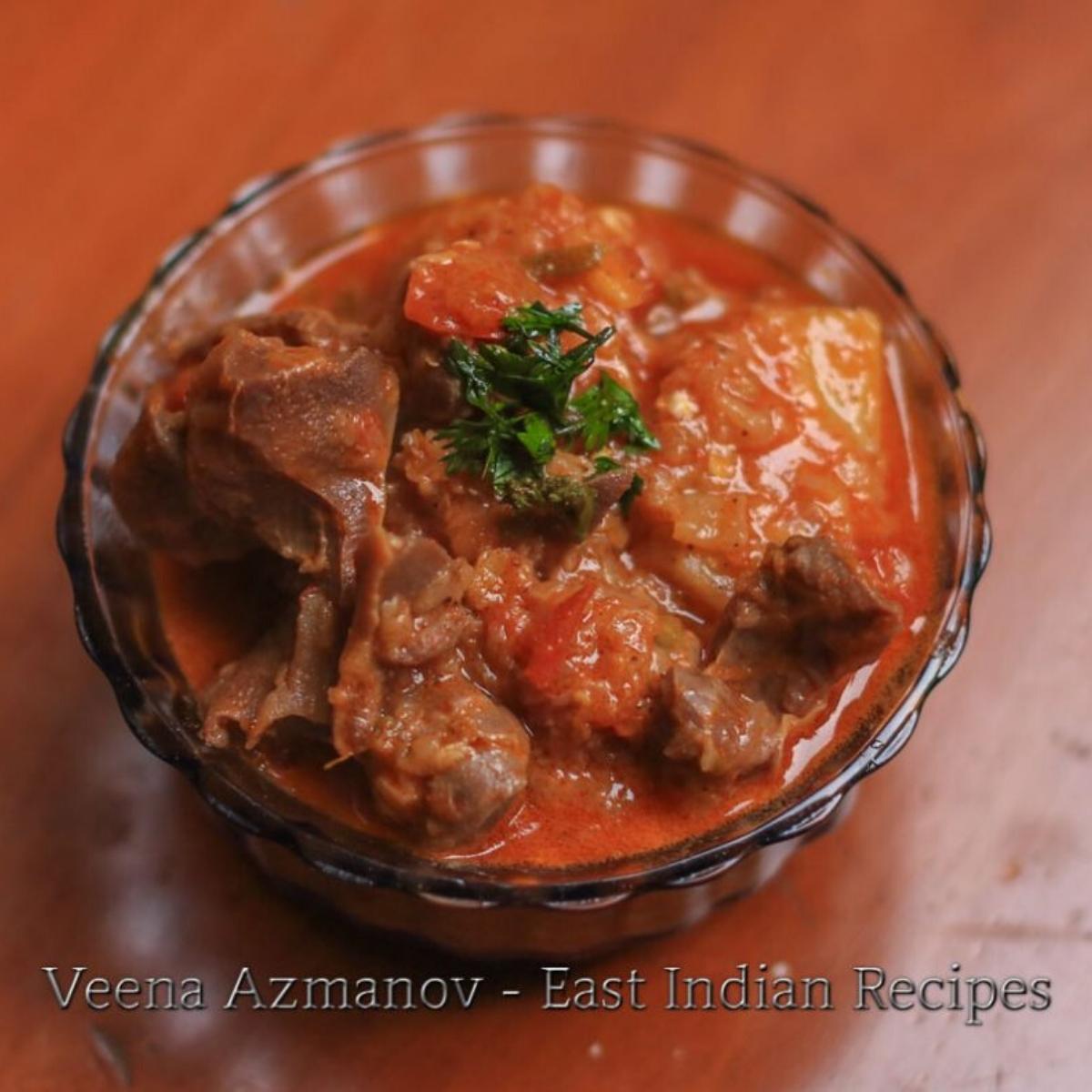 Variations
You could also make this with chopped beef or mutton. Just adjust the cooking time accordingly. Personally, I use prefer to use the pressure cooker when cooking red meats.
You can omit the potatoes or you can also add chopped carrots and other similar veggies to make a more wholesome and hearty curry. But, take note that these will absorb the spices which means you will need to adjust for that as well.
This curry base is wonderful and I often use it to make a veggies curry for my vegetarian friends. I use a combination of butternut squash, sweet potato, carrots, and turnips.
More chicken recipes
Pin this and other East-Indian Recipes on Pinterest here. Don't forget to like and Follow for more recipes.
---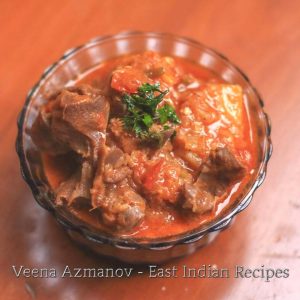 This authentic East Indian guisad of chicken curry is simple and easy to make. It uses both cut and ground masala paste as well as almonds and sultanas for that creamy yet slightly sweet flavor.
Ingredients
2

lb

(

1

kg

)

Chicken gizzards or giblets

or one whole chicken cut into 10 to 12 pieces

2

large

Potatoes

Cut into 2 inch cubes

2

large

Onions

sliced

4

Green chilies

sliced

½

inch

Fresh ginger

cut into thin strips

2

large

Tomatoes

skinned, then sliced into small pieces

½

cup

Ground Coconut

or coconut cream

½

tsp

Sugar

2

tbsp

Vinegar

3

tbsp

Ghee

½

tsp

Salt

½

tsp

Pepper
Ground masala
10

Red Kashmiri chilies

(seeds removed)

4

Garlic cloves

½

inch

Fresh ginger

1

tsp

Cumin seeds

1

inch

Cinnamon stick

4

Cardamoms

8

Cloves

½

tsp

Peppercorns

½

tsp

Turmeric

10

Almonds

10

Sultanas
Instructions
Grind the masala paste ingredients in a food processor or blender until smooth, adding just enough water as necessary. Set aside.

Heat ghee in a saute pan and saute the onions until golden brown. Then add the sliced ginger and green chilies. Followed by the chopped tomatoes. Saute until the tomatoes are soft and cooked to an almost pulp.

Pro tip – keep the heat on medium to low and don't make haste. We want the onions and veggies nicely sauteed without any burnt taste.

Next, add the ground masala and saute until nice and fragrant about 3 to 5 minutes.

Pro tip – it is important to saute the masala until you get a nice fragrant aroma this means that the spices are cooked.

Then, add the cleaned, washed, and chopped chicken gizzards and saute for 2 to 3 minutes. Add the coconut, vinegar, sugar, and chopped potatoes. Season with salt and pepper.

Cover and simmer on low heat until the potatoes and chicken are both tender adding a little water if necessary. When cooked taste and adjust the seasoning adding more salt, pepper, or vinegar as necessary.

Pro tip – chicken gizzards/giblets don't become very soft, It is a tough piece of meat. But, it is easy to eat and usually tables about 15 to 20 minutes to cook.
About Videos – most recipes has two videos – a quick version in the post & longer detailed version on this recipe card. Please do subscribe to my channel if you like my videos
Nutrition Information
Calories:
338
kcal
|
Carbohydrates:
29
g
|
Protein:
22
g
|
Fat:
15
g
|
Saturated Fat:
8
g
|
Polyunsaturated Fat:
2
g
|
Monounsaturated Fat:
4
g
|
Trans Fat:
1
g
|
Cholesterol:
406
mg
|
Sodium:
321
mg
|
Potassium:
659
mg
|
Fiber:
4
g
|
Sugar:
20
g
|
Vitamin A:
13484
IU
|
Vitamin C:
114
mg
|
Calcium:
48
mg
|
Iron:
12
mg
The nutrition information and metric conversion are calculated automatically. I cannot guarantee its accuracy. If this data is important to you please verify with your trusted nutrition calculator. Thank you
You may also like