The East Indian prawn chili fry is a simple saute of onions, potatoes, and spices. Today, we make it with prawns but chicken and other meats work too. We serve with rice roti appas or chapati for a quick meal.
The humble chili fry is poor man's food because most of the ingredients used are inexpensive and mostly pantry staples. But, best of all it is a quick meal, especially on busy weekday nights.
Growing up mom made this prawn chili fry (with shrimps) often mostly with small shrimps, a few potatoes, and lots of onions. Now, this dish does have lots of onions but the secret is to cook the onions until they are almost caramelized. That's what makes this simple dish really special.
Ingredients and substitutes
Onions – I like to use a combination of pungent brown with sweet red Spanish onions. While the brown onions hold their shape well the sweet condenses down and caramelizes beautifully.
Potatoes – You want to cut these into small cubes. That way they become soft on the inside and get toasted around the edges.
Garlic – a few silvers go a long way
Tomatoes – one large tomato is cut into slices. This adds moisture to the dish along with taste and flavor.
Chilies – You can use spicy red or green chilies for this chili fry. Trust me you do want a little spice in there.
Vinegar – helps marry all the flavors together. You can use lemon juice but I prefer apple cider vinegar.
Pin this and other East-Indian Recipes on Pinterest here. Don't forget to like and Follow for more recipes.
---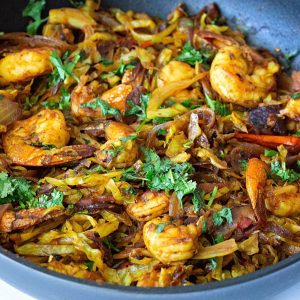 The East Indian prawn chili fry is a simple saute of onions, potatoes, and spices. Today, we make it with prawns but chicken and other meats work too. We serve with rice roti appas or chapati for a quick meal
Ingredients
1

cup

Prawns or shrimp

3

tbsp

Vegetable oil

2

large

Onions

thinly sliced

2

med

Potatoes

peeled and diced into small cubes

1

large

Tomato

sliced

2

med

Chilies

red or green

½

tsp

Turmeric powder

½

tsp

Chili powder

or cayenne pepper

1

tbsp

Vinegar

1

tsp

Sugar

½

tsp

Kosher salt

½

tsp

Black pepper

¼

cup

Chopped cilantro
Instructions
Prawns – Clean the prawns by removing the shells but leaving the tails. Devein them and pat them dry. Then, season with salt and pepper. Set aside.

Saute – In a frying pan add 2 tbsp of oil and saute the onions until almost golden brown. Add the potatoes, salt, pepper, and turmeric powder. Continue to cook stirring frequently.

3 tbsp Vegetable oil,

2 large Onions,

2 med Potatoes,

½ tsp Turmeric powder

Spice – Once the potatoes are tender, add the tomatoes, chopped chilies, and chilly powder.

1 large Tomato,

2 med Chilies,

½ tsp Chili powder

Prawns – Move the onion and potato mixture and make space in the center of the frying pan. Add, the remaining oil and the prawns. Cook the prawns in the center for 2 to 4 minutes or until just pink in color. Pro tip – I like to isolate the prawns in the center of the pan for the first few minutes. This reduces the fishy smell adding to the whole dish.

Assemble – Once the prawns are pink in color combine them with the rest of the ingredients in the pan. Cook for 2 to 4 minutes more until the prawns are tender. Add the vinegar, sugar, and chopped cilantro. Taste and adjust seasoning.

1 tbsp Vinegar,

1 tsp Sugar,

½ tsp Kosher salt,

½ tsp Black pepper,

¼ cup Chopped cilantro
About Videos – most recipes has two videos – a quick version in the post & longer detailed version on this recipe card. Please do subscribe to my channel if you like my videos
The nutrition information and metric conversion are calculated automatically. I cannot guarantee its accuracy. If this data is important to you please verify with your trusted nutrition calculator. Thank you