Dried Shrimp Curry – Zavla
This dried shrimp curry is also known as zavla curry. It is very common in most East Indian homes and is made with bottle masala. Often served with rice bread apas and vegetable foogat.
Dried shrimps are very common in Asian cooking. In fact, in Chinese, Malaysian, and Indonesian cooking it is used almost every day in some form. Often used as a fish paste in sauces or thrown into stir-fries and noodle dishes.
In India, I'm mostly seen this used by our East Indians. You will get every home having stocks of these saved for monsoon when fresh fish is not available.
I remember mom and the women would stand on the verandah discussing dishes like atwan, lonvas, temprade, bafad, and kujit, etc. All these didn't make any sense back then but as I make these myself now they all seem to be falling in place.
Today, I am making this zavla with bottle masala and kokum (mangosteen). Often, you will find this is also made with brinjal called zavla vanga! The two main ingredients for this recipe are zavla and kokum.
What is zavla?
Well, zavla is very find dried shrimps. These shrimps are sun-dried until they are almost crisp so that you could make a powder with them. They can be stored at room temperature for months which is why they were the most common dry stores saved for monsoon season.
What is kokum?
Kokum comes from the mangosteen family and looks like a large cherry tomato when fresh. When dried it has a long shelf life which is why most people have only seen it as deep black pieces of leather. The fresh fruit has a sweet and sour taste. When dried in the sun it becomes very sour and is used instead of tamarind or lemon juice. However, though sour it has a unique flavor to both tamarind and lemon juice. The dried kokum must be soaked in water before use. Kokum water is often used to cure acidity.
Ingredients and substitutes
Shrimps – these are dried and need to be soaked in warm water for at least 10 minutes, preferably 30 minutes. Soaking will soften them and make them easier to cook and less chewy.
Bottle masala – is a special spice blend made by East Indians. There is no substitute for bottle masala.
Onions – it is best to use fresh spring onions for this recipe but finely chopped brown onions will work just as well.
Garlic, ginger – Make sure to use fresh and finely chopped.
Chilies – I like to use large green chilies that at less spicy in combination with the bottle masala but you can use spicy chilies too.
Tips for success
Zavla needs to be cleaned before use. Mom would place it in a strainer to remove all the fine dry shells. Then, check through them to make sure there are no foreign objects.
Soak the zavla for at least 10 minutes. They will absorb water and become softer which makes them less chewy. However, do not soak for more than 30 minutes as it makes them chewier!
Saute the onions well before adding the spices.
This is a spicy curry, especially because we use both bottle masala and green chilies but you can omit or reduce the chilies to make it less spicy.
Brinjal – to add brinjal to the zavla. Chop the brinjal into cubes and add it to the pan with the dried shrimps. Cook as directed below.
Pin this and other East-Indian Recipes on Pinterest here. Don't forget to like and Follow for more recipes.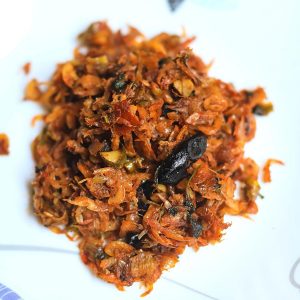 Ingredients
1

cups

(

150

g

)

Zavla

(kardi) soaked in water for 10 minutes

2

tbsp

Cooking oil

4

long

Spring onions

or shallots

6

large

Fresh garlic cloves

finely minced

3

inch

Fresh ginger

grated

4

large

Green chilies

finely chopped

¼

cup

Coriander stalks only

chopped finely

2

tbsp

Bottle masala

4

pieces

Kokum petals

soaked in water for few minutes

¼

tsp

Coriander leaves

chopped for garnish
Instructions
Dried shrimps – soak the zavla in water for 10 minutes. Then drain and set aside until ready to use.

Saute – in a pan over medium heat, add the oil and saute the onions, ginger, garlic, coriander stalks, and green chilies until the onions are translucent.

Masala – Add the bottle masala and kokum along with the soaking liquid. Saute for a minute then add the dried shrimps and one cups of water. Stir well. Pro tip – do not cook the bottle masala for too long as it can burn the spices.

Simmer – Bring to a boil then reduce heat to medium-low and simmer for 10 minutes or until the shrimps are cooked.

Finish – Add the freshly chopped coriander leaves. Taste and adjust seasoning. Pro tip – dried fish is usually salty so be careful when seasoning this curry.
About Videos – most recipes has two videos – a quick version in the post & longer detailed version on this recipe card. Please do subscribe to my channel if you like my videos
Nutrition Information
Calories:
149
kcal
|
Carbohydrates:
11
g
|
Protein:
13
g
|
Fat:
7
g
|
Saturated Fat:
1
g
|
Polyunsaturated Fat:
1
g
|
Monounsaturated Fat:
4
g
|
Trans Fat:
1
g
|
Cholesterol:
95
mg
|
Sodium:
232
mg
|
Potassium:
329
mg
|
Fiber:
3
g
|
Sugar:
3
g
|
Vitamin A:
1942
IU
|
Vitamin C:
10
mg
|
Calcium:
67
mg
|
Iron:
1
mg
The nutrition information and metric conversion are calculated automatically. I cannot guarantee its accuracy. If this data is important to you please verify with your trusted nutrition calculator. Thank you