This mango chunda or aam ka chunda is a combination of pickle and chutney. Made with semi-ripe mangoes it's also wonderfully sweet and spicy with aromatic warm spices.
There are many names and many variations to this mango dish from aam ka murabba, to chunda. Some call it a pickle while others say it is a chutney. In many parts of India, this is also made with other fruits like plums, gooseberry, apples, apricots, and cherries.
Is there a difference between murabba and chunda?
Yes! Both are stored like a preservative or jam. While you can make them on the stove way back in the old day, they were fermented in sugar in glass jars in open sunlight.
A murabba is made without spices and often eaten as a dessert or served over a dessert. It is sweetened with jaggery with a touch of cardamom and cloves. In fact, it is often made with saffron (kesar) for that wonderful rich color.
Chunda is made with spices such as cumin and chili powder as well as whole garam masala spices such as cardamom, cloves, cinnamon, star anise etc.
Ingredients and substitutes
Mangoes – I like to use semi-ripe mangoes (more yellow rather than raw green). This enhances the sweetness of the chunda and the texture also becomes very soft to almost dissolved. Of course, you can use raw mangoes too. In fact, the more raw the mangoes, the more grainy the texture of the chunda will be.
Whole spices – I like using whole spices instead of garam masala powder. These add a nice warm flavor but less heat.
Sweetness – I like my chunda sweet so I used a generous amount of jaggery and sugar.
Spicy – I like a good balance of sweet and spicy so I use chili powder. You can of course use less or add more per your taste.
Tips for Success
All excess moisture must be drained off from the mangoes  Sun-dry or oven-dry the mango pieces so the excess moisture is dried out. 
Use sterilized jars – that have been washed, dried as well as sun-dried or oven-dried 
Use sealable jars that will prevent any air from getting into the jars. 
Make sure there is enough oil in the bottle on the top to prevent mold formation. 
You can also divide the above recipe and make a smaller batch and store it in the fridge. That way you can omit the sun-dry or oven-drying process completely. 
Pin this and other East-Indian Recipes on Pinterest here. Don't forget to like and Follow for more recipes.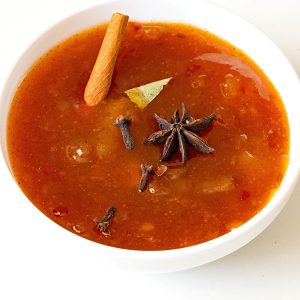 This mango chunda is a combination of pickle and chutney. Made with semi-ripe mangoes it's also wonderfully sweet and spicy with aromatic warm spices.
Ingredients
Makes 4 x 250 grams bottles
500

grams

(

3

cups

)

Sem-ripe mangoes

grated

1½

tsp

Salt

100

grams

(

½

cup

)

Jaggery

150

grams

(

¾

cups

)

Sugar

½

tsp

Cumin powder

roasted

1

tsp

Chili powder

Kashmiri

¼

tsp

Turmeric powder

2

Green

Cardamom pods

elichi

3

inch

Cinnamon stick

dalchini

4

Whole cloves

lavang

1

Star anise

1

Bay leaf
Instructions
Mangoes – Wash, and peel the mangoes. Then grate them using the thick side of the grater. Pro tip – the grated mangoes can be macerated with jaggery and sugar in the fridge for up to 24 hours.

500 grams Sem-ripe mangoes

Combine – In a large heavy-bottom pot or skillet add all the chunda ingredients. Cook on medium heat until the sugar and jaggery have completely dissolved.

1½ tsp Salt,

100 grams Jaggery,

150 grams Sugar,

½ tsp Cumin powder,

1 tsp Chili powder,

¼ tsp Turmeric powder,

2 Green Cardamom pods,

3 inch Cinnamon stick,

4 Whole cloves,

1 Star anise,

1 Bay leaf

Boil – Once all the sugar and jaggery have dissolved turn to medium-high heat and bring to a boil. Boil for two full minutes, and then, reduce the heat to medium-low

Simmer – Continue to simmer on low heat stirring often for 10 to 15 minutes or until the mixture has thickened similar to a jam.

Cool – Turn the heat off and let the mixture cool for a few minutes before you transfer it to sterilized jars.

Pro tip- at this point, it is best to remove the whole spices as they tend to continue to add heat to the chunda hot.

Storage – The sealed jars will keep in the fridge for up to 2 months. Once opened the jar should be used within 4 weeks. Pro tip – Alternatively, this chunda can be canned in sterilized jars using the canning process. The canned jars will keep for up to 12 months.
About Videos – most recipes has two videos – a quick version in the post & longer detailed version on this recipe card. Please do subscribe to my channel if you like my videos
Nutrition Information
Serving:
250
g
|
Calories:
316
kcal
|
Carbohydrates:
79
g
|
Protein:
1
g
|
Fat:
1
g
|
Saturated Fat:
1
g
|
Polyunsaturated Fat:
1
g
|
Monounsaturated Fat:
1
g
|
Sodium:
883
mg
|
Potassium:
243
mg
|
Fiber:
3
g
|
Sugar:
76
g
|
Vitamin A:
1509
IU
|
Vitamin C:
46
mg
|
Calcium:
39
mg
|
Iron:
1
mg
The nutrition information and metric conversion are calculated automatically. I cannot guarantee its accuracy. If this data is important to you please verify with your trusted nutrition calculator. Thank you
Sweet Mango Chutney Recipe (30 mins)
Chutney is simple and easy to make and a great way to enjoy mangoes in season. This sweet mango chutney takes less than 10 minutes to prep and 30 minutes to cook. You can add it to your favorite meat or roast to enhance the flavor. It is also the best sandwich spread you will ever taste.