There are a lot of mango pickle recipes however this is the traditional mango pickle recipe made by the east Indians. It is easy and has a pungent flavor with a burst of spices
This is a spicy pickle with a long shelf life of over a year if kept properly. In fact, the longer the mango macerate in the spices and oil the more tender it becomes. The pickles become tastier over time.
If I remember correctly my mom would keep the pickles for 3 months before she served them. She'd fill the pickle in sterilized jars, steam them in a stockpot to seal, then cover them with a cloth before she stored them for macerating.
Also, take note that this is not a sweet pickle it is sour, tangy, and spicy. Once macerated the oil in the pickle is so flavorful you will enjoy eating the oil over steamed rice and other dishes. The sourness from the raw mangoes makes is where it gets that tangy sour taste. If you like it sweeter try my mango chunda pickle instead.
Ingredients and substitutes
Mangoes – you must use raw mangoes for this recipe. Ripe mangoes will not make a long-lasting pickle like this.
Spices – as you can see the spices are a generous portion. It is a spicy pickle after all.
Salt – pickles are known to be salt and that's because salt acts as a preservative.
Oil – is also a preservative. In fact, if you use less oil in the pickle it can cause the pickle to get ruined.
Spices – the fenugreek seeds and mustard seeds add a slightly bitter taste to the pickle which works wonderfully in combination with the spicy yet sour mangoes.
This pickle is a very simple and easy recipe and yet if not done correctly can get ruined. Three things to ensure are
Use sufficient salt,
Dry the mangoes well and
Use sufficient oil.
Tips for Success
All excess moisture must be drained off from the mangoes  Sun-dry or oven-dry the mango pieces so the excess moisture is dried out. 
Use sterilized jars – that have been washed, dried as well as sun-dried or oven-dried 
Use sealable jars that will prevent any air from getting into the jars. 
Make sure there is enough oil in the bottle on the top to prevent mold formation. 
You can also divide the above recipe and make a smaller batch and store it in the fridge. That way you can omit the sun-dry or oven-drying process completely. 
Pin this and other East-Indian Recipes on Pinterest here. Don't forget to like and Follow for more recipes.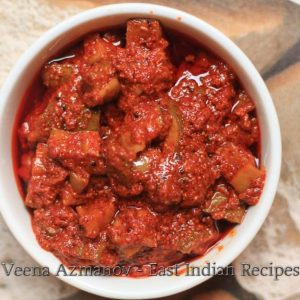 There are a lot of mango pickle recipes however this is the traditional mango pickle recipe made by the east Indians. It is easy and has a pungent flavor with a burst of spices
Equipment /Tools
Cutting Board

Kitchen Knife

Suate pan

Mason jars
Ingredients
Makes 3 x 250 grams jars
500

grams

(

17 ⅔

oz

)

Mangoes (raw)

green – cut into 2-inch cubes

4

tbsp

Salt

1½

cup

(

354

ml

)

Cooking oil

2

tbsp

Mustard seeds

rai

1

tbsp

Fenugreek seeds

methi dana

½

tsp

Asafetida powder

hing

2

tbsp

Chili powder

or Cayenne

1

tsp

Turmeric powder

haldi
Instructions
Mangoes – Wash, dry, and cut the mangoes into 2-inch cubes. Discard the seeds. Place the mangoes in a stainless or glass bowl (do not use aluminum). Generously season them with salt. Let macerate for 3 to 4 hours.

500 grams Mangoes (raw),

4 tbsp Salt

Dry – Then drain all the juices and sun-dry the mangoes for 2 days. This will drain the excess moisture. Pro tip – if you can't dry the mangoes in the sun, oven-dry them for an hour at 60 to 70 C or 140 to 160 F

Combine – In a large mixing bowl add the mango pieces. Add the turmeric powder, chili powder, asafetida (hing) powdered, fenugreek(methi) seeds, and mustard seeds. Combine well so each and every mango piece is coated with spices.

2 tbsp Mustard seeds,

1 tbsp Fenugreek seeds,

½ tsp Asafetida powder,

2 tbsp Chili powder,

1 tsp Turmeric powder

Oil – In a large heavy-bottom saucepan over medium heat bring the oil to an almost boil. Turn the heat off and let it cool to room temperature.

Assemble – Transfer the mango mixture into a jar or a few jars making sure to leave space for the oil. Gradually pour the oil over the mangoes making sure it comes above the mango pieces. Pro tip – we want each and every piece of mango submerged in the oil. If the oil is less it will cause the mangoes to go bad by attracting fungus.

Macerate – Leave the jars to mature for at least 10 to 15 days before you eat the pickle. The longer the pickle will mature the better it will taste.
Recipe Notes
Drying the mangoes
Drying the mangoes before making the pickle is important.
If you do not dry the mangoes well moisture in the mangoes will reduce the shelf-life of the pickle. 
An alternate method to drying mangoes if you can't put them in the sun is to air dry .them in the fridge. Place them on the tray open in the fridge. This will take a few days. 
About Videos – most recipes has two videos – a quick version in the post & longer detailed version on this recipe card. Please do subscribe to my channel if you like my videos
Nutrition Information
Calories:
66
kcal
|
Carbohydrates:
3
g
|
Protein:
1
g
|
Fat:
6
g
|
Saturated Fat:
1
g
|
Polyunsaturated Fat:
1
g
|
Monounsaturated Fat:
4
g
|
Sodium:
568
mg
|
Potassium:
29
mg
|
Fiber:
1
g
|
Sugar:
1
g
|
Vitamin A:
203
IU
|
Vitamin C:
4
mg
|
Calcium:
4
mg
|
Iron:
1
mg
The nutrition information and metric conversion are calculated automatically. I cannot guarantee its accuracy. If this data is important to you please verify with your trusted nutrition calculator. Thank you
Spicy Mango Chutney Recipe (30 mins)
This spicy mango chutney is a delicious way to enjoy fresh mangoes. Grated mangos cooked in a sugar syrup made with chilly and spices bursting with fresh flavor. Perfect to use as a sandwich spread, over that perfect roast, or just on its own over toast
Sweet Mango Chutney Recipe (30 mins)
Chutney is simple and easy to make and a great way to enjoy mangoes in season. This sweet mango chutney takes less than 10 minutes to prep and 30 minutes to cook. You can add it to your favorite meat or roast to enhance the flavor. It is also the best sandwich spread you will ever taste.