Papaya Carrot Pickle – Wedding Pickle
This is the classic East Indian wedding pickle is a papaya carrot pickle made with raw papaya and carrots in a vinegar brine. It is slightly sweet, and sour, with a little bit of zing from the chili.
The wedding festivities in an East Indian community start with the preparation of the wedding pickle. The women will get together and prepare the vinegar brine while the young girls will get cutting on the veggies.
The pickle takes a week to macerate and come to flavor which is why the pickle has get significance and popularity. Truth be told it is a very simple pickle compared to some of the more complex varieties we are used to making.
Ingredients and substitutes
Papaya – look for raw papaya which is slightly yellow so it's not very raw but not ripe yet.
Carrots – I love slender tender carrots as compared to the large ones but all varieties work too. In fact, sometimes I use colorful roasting carrots just because they look so pretty
Dates – these are not the regular ready Medjool dates but rather yellow dates. The reason they are yellow is that they are raw. Yes, raw dates are yellow in color until they turn ripe from light brown to dark brown in color.
Sugar – I like to use sugar but jaggery or palm sugar works too.
Vinegar – Palm vinegar is what is traditionally used but I prefer apple cider vinegar.
Optional – I like adding sliced radish, parsnips, and zucchini to the mix too.
Variations
This brine can be used to make any or many different versions of pickles.
As kids' I would use only raw mango slices in the brine liquid. The brine itself was so tasty we'd drizzle some over rice!
You can also use cucumber and zucchini, as well as beets to make a beetroot pickle.
Pin this and other East-Indian Recipes on Pinterest here. Don't forget to like and Follow for more recipes.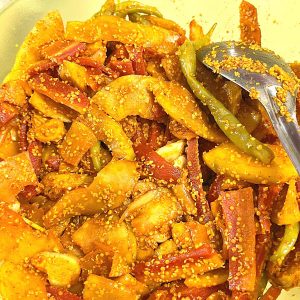 Papaya Carrot Pickle Wedding Pickle
Print
Pin
Rate
$5
Adjust Servings Here:
8
servings
This is the classic East Indian wedding pickle made with raw papaya and carrots in a vinegar brine. It is slightly sweet, and sour, with a little bit of zing from the chili.
Ingredients
1

med

Raw papaya

sliced and sun dried for 2 hours

5

med

Carrots

sliced and sun dried for 2 hours

4

med

Green chilies

slit into two

2

bulbs

Garlic cloves

peels and threaded on a toothpick

3

inch

Fresh ginger

sliced

5

large

Yellow dates

sliced
Brine – Pickle liquid
1½

cup

Vinegar

1

tbsp

Mustard seed

crushed

10

Pepper corns

2

tbsp

Sugar

or crushed jaggery

1

tsp

Turmeric powder

1

tsp

Chilly powder

or cayenne pepper

1

tsp

Kosher salt
Instructions
Veggies – Wash, clean, and slice both the papaya and carrots into thick slices. Place them on a large tray and into the sun for 2 hours. Pro tip- The sun will evaporate excess moisture from the veggies which will prevent them from molding in the pickle.

1 med Raw papaya,

5 med Carrots

Brin – Combine all the brine ingredients in a small saucepan over medium heat. Stir until the sugar and salt have dissolved. Bring to a boil and take it off the heat. Leave to cool to room temperature.

1½ cup Vinegar,

1 tbsp Mustard seed,

2 tbsp Sugar,

1 tsp Turmeric powder,

1 tsp Chilly powder,

1 tsp Kosher salt,

10 Pepper corns

Combine – In a large ceramic, glass, or plastic bowl combine the sun-dried veggies, along with chilies, garlic, ginger, and dates with the cooled brine. Stir well and set aside. Pro tip – do not use metal such as aluminum as the acid in the brine will react with the metal causing oxidation.

4 med Green chilies,

2 bulbs Garlic cloves,

3 inch Fresh ginger,

5 large Yellow dates

Stirring – This mixture needs to be tossed around 2 to 3 times a day for the next 3 to 4 days. This will ensure that all the veggies come in contact with the brine and absorb as much flavor as possible.

Store – Transfer the pickle to a pickle jar making sure that the top has enough brine to prevent exposure. Seal with a cheesecloth and leave to macerate for another 4 to 5 days or up to a week.

Serving – when removing the pickle from the jar, take only the veggies leaving the liquid behind. This will ensure the rest of the pickle is well submerged in the brine which prevents contamination.
About Videos – most recipes has two videos – a quick version in the post & longer detailed version on this recipe card. Please do subscribe to my channel if you like my videos
Nutrition Information
Calories:
76
kcal
|
Carbohydrates:
15
g
|
Protein:
1
g
|
Fat:
1
g
|
Saturated Fat:
0.1
g
|
Polyunsaturated Fat:
0.2
g
|
Monounsaturated Fat:
0.4
g
|
Sodium:
328
mg
|
Potassium:
254
mg
|
Fiber:
2
g
|
Sugar:
11
g
|
Vitamin A:
6805
IU
|
Vitamin C:
26
mg
|
Calcium:
31
mg
|
Iron:
1
mg
The nutrition information and metric conversion are calculated automatically. I cannot guarantee its accuracy. If this data is important to you please verify with your trusted nutrition calculator. Thank you