On all souls day, we make atola. This is a rice pudding made with newly harvested rice, black-eyed beans, coconut, and jaggery. Flavored with cardamom powder this rice pudding recipe is an absolute treat and kids' favorite.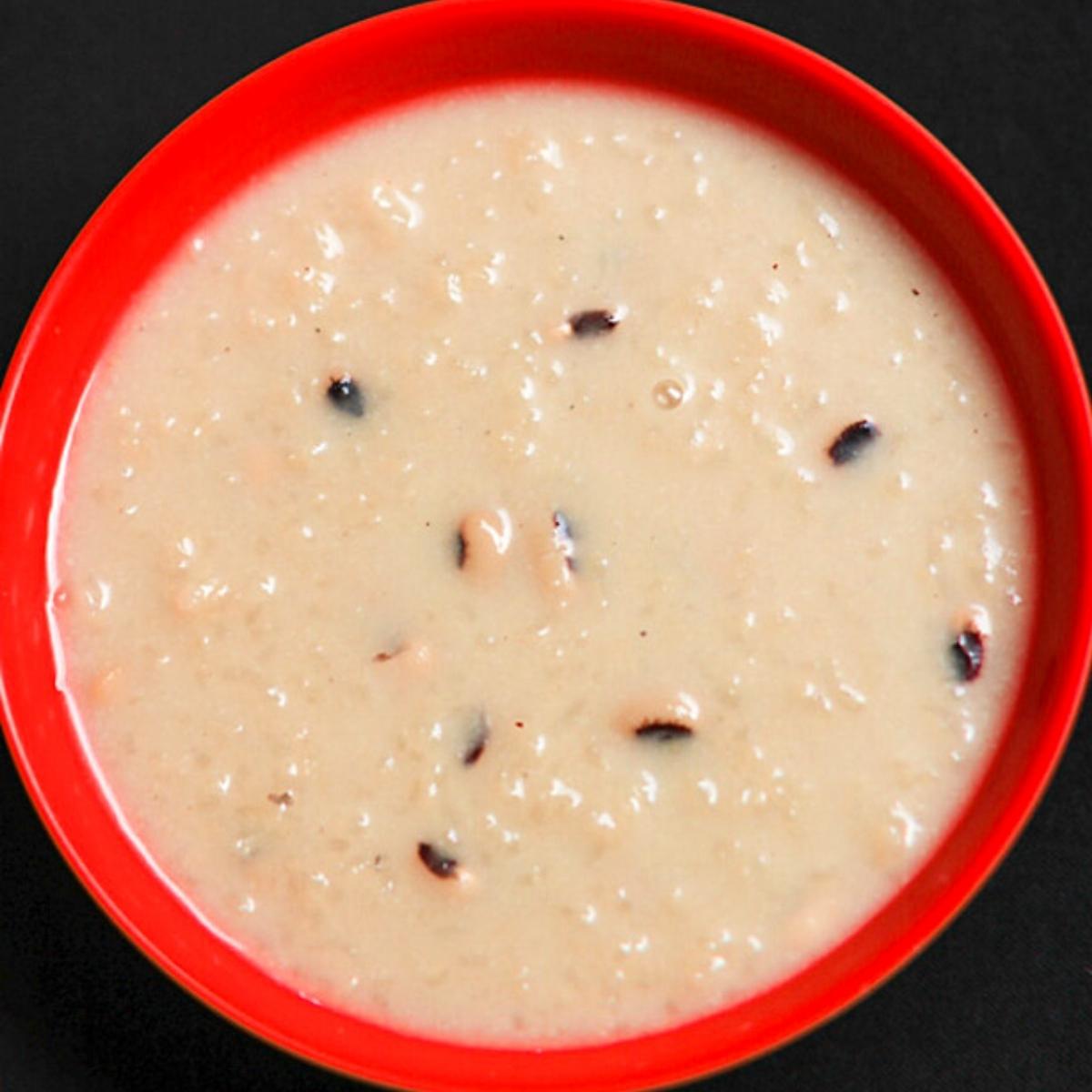 Every year on the 2nd of November comes the day of the dead. A day dedicated to honoring the dear souls in the family. Masses are offered in church, family graves are visited and dressed with flowers and candles.
Growing up, I remember mom would have a table set by the alter with food for the dead in the family. It used to be dad and grandpa but over the years that list has gone up. It is said, that our ancestors visit us on this day so we keep food for them. Mom even put a glass of alcohol for grandpa and dad along with their favorite foods. One of the special dishes made for offering would be Alota which is this rice pudding. And she would make a huge pot of it for everyone.
As kids, we would visit neighbors' and friends' homes to try all the different atola recipes because no matter how much you ate.. it was never enough! So delicious.
Ingredients and subsitutes
Rice – Atola is made with new rice. New rice signifies new harvest that you offer to the dead and ask their blessings. But, you can also make it with glutinous (asian) rice. Of course, you can make it with any rice but the texture of hte pudding is better with the new or glutinous rice as they are more sticky when cooked down to pudding consistency.
Beans – traditionally black-eyed beans are used in this recipe. They look pretty and taste delicious. Some also use split gram or channa dal. You can also use 1 can of black-eyed peas in this recipe and reduce the cooking time to only 20 minutes needed for the rice.
Coconut – traditionally, coconut is grated with a grator, ground in the blender, and then squeezed to get the juice. Personally, I always use carton coconut milk that is easily available in the supermarkets these days.
Jaggery – is made by reducing the sap of coconut palm. Use the brown not balck jaggery otherwise the color will be too dark. While jaggery has a distinct flavor the closest substitute for jaggery would be dark brown sugar because it has the strong flavor of molasses.
Cadarmom powder – is made by simply blending a few cardamoms in a blender until powder consistency. Add a little sugar helps make a finer grind.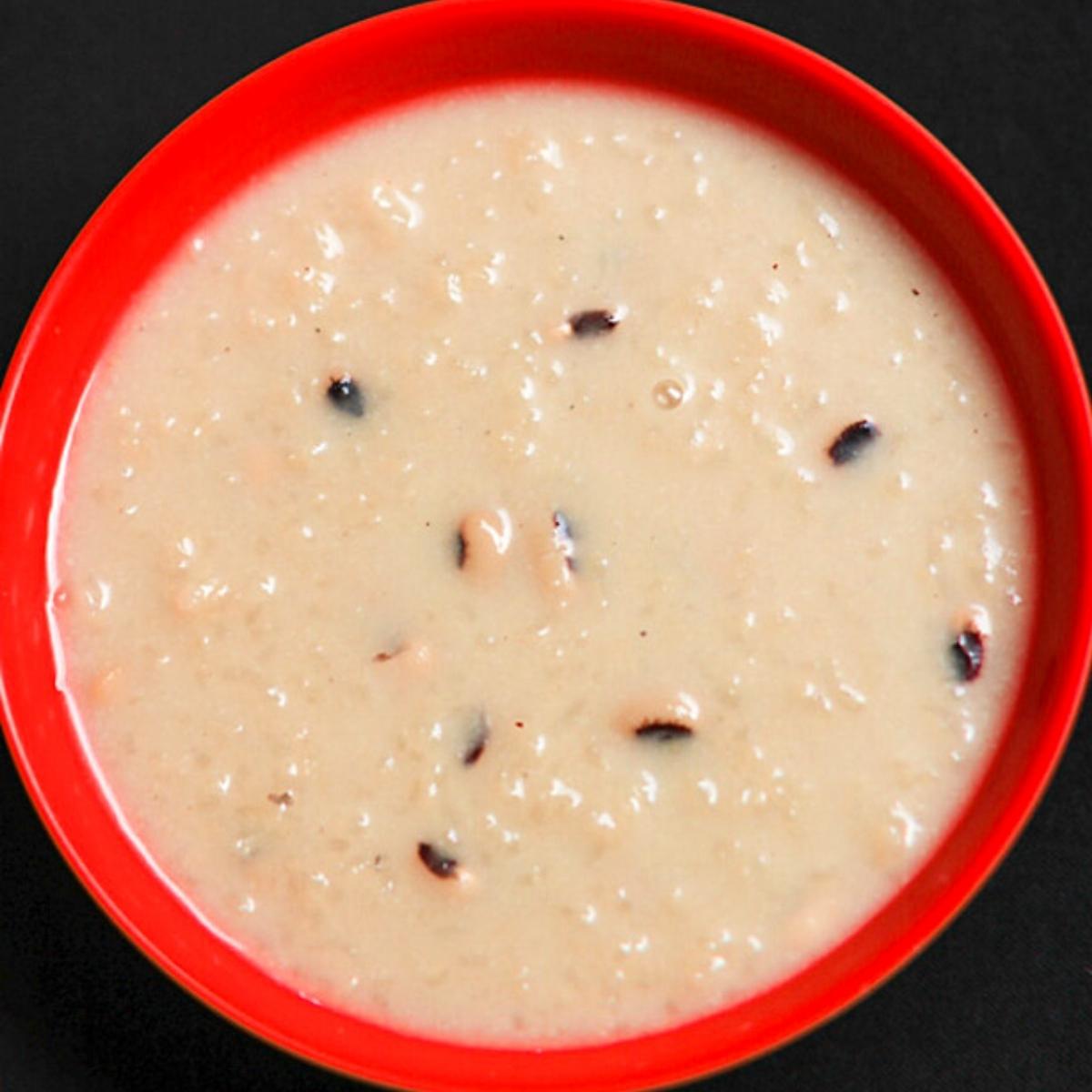 How to cook beans
Black-eyed beans take longer to cook. You can cook them ahead of time if you want to reduce the cooking time. You can cook the beans ahead of time for up to 3 days. Once cooked these can be stored in the freezer in a storage bag for up to 3 months.
Wash and soak them in water for at least 4 hours. Soaking hydrates them which helps cook them faster and better with a smooth texture.
Stovetop – You can cook them on the stovetop in lots water until tender, about 45 minutes to an hour.
Pressure cooker – I find the best way to cook beans is in a pressure cooker for 3 whistles + 8 minutes, then use the beans and liquid to continue with the recipe
Instant pot – Cook soaked beans in an instant pot for 15 minutes with natural release or unsoaked beas for 30 minutes with natural release.
Slow cooker – cook soaked beans in a slow cooker for 4 to 6 hours or unsoaked beans for 6 to 8 hours.
You may also like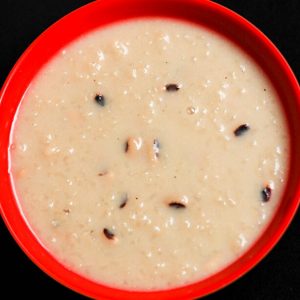 On all souls day, we make atola. This is a rice pudding made with new rice, black-eyed beans, coconut, and jaggery. Flavored with cardamom powder this pudding is an absolute addiction. The recipe gets done in about 25 to 30 minutes
Ingredients
2

cups

New rice

1

cup

Black-eyed beans

Chawlee

2

cups

Jaggery

Chopped

2

cups

Coconut milk

or 1 cup coconut cream

1

tsp

Cardamom powder

4

cups

Water
Instructions
Wash and soak the beans and rice in water for at least 4 hours.

Pro tip – Soaking hydrates them which helps cook them faster and better.

Drain and add fresh water. Cook with salt for about 45 minutes until the beans are soft and can be mashed easily with your fingers. The rice by now will also be very soft.

pro tip – if you use precooked beans, cook the rice separately for 20 minutes then combine the cooked beans with liquid and rice together.

Once the beans and rice are cooked to soft and tender, add the jaggery and coconut milk. Cook until all the jaggery is melted.

Taste and adjust sweetness and consistency. Add more crushed jaggery or water as necessary. Finally, add the cardamom powder.
About Videos – most recipes has two videos – a quick version in the post & longer detailed version on this recipe card. Please do subscribe to my channel if you like my videos
Nutrition Information
Calories:
517
kcal
|
Carbohydrates:
94
g
|
Protein:
6
g
|
Fat:
12
g
|
Saturated Fat:
11
g
|
Sodium:
16
mg
|
Potassium:
237
mg
|
Fiber:
2
g
|
Sugar:
51
g
|
Vitamin C:
1
mg
|
Calcium:
49
mg
|
Iron:
3
mg
The nutrition information and metric conversion are calculated automatically. I cannot guarantee its accuracy. If this data is important to you please verify with your trusted nutrition calculator. Thank you